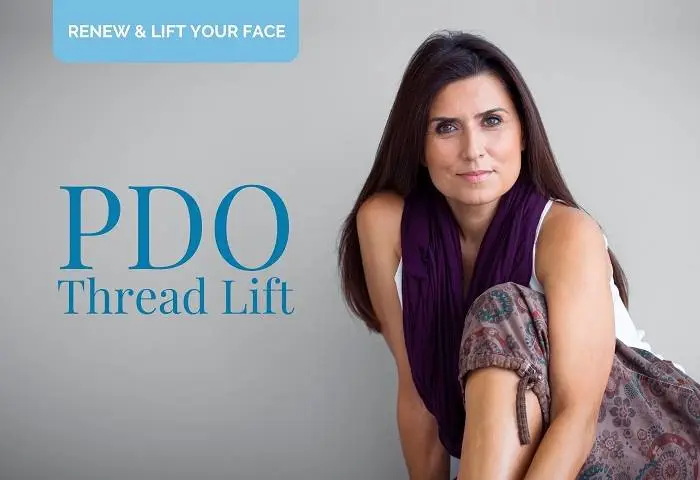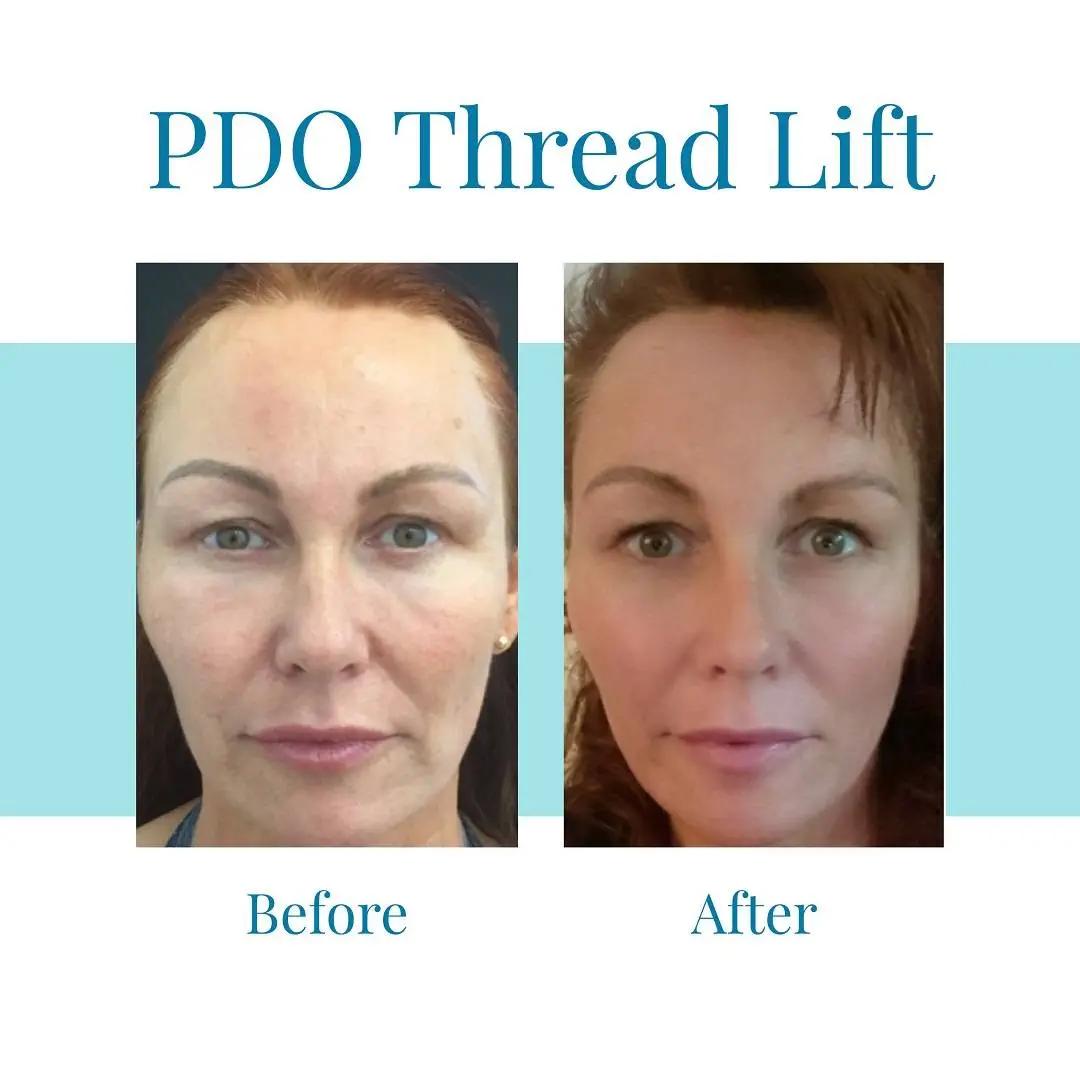 Treats
Loose, sagging facial skin
Neck, jawline, cheeks
Marionette lines
Deep wrinkles and folds
The area around the eyes
Brow/forehead
Smoker's lines
Acne scars through thread meshing
Results
Skin tightening
Skin lifting
Skin rejuvenation
Revitalization of your appearance
Enhance collagen and elastin production
Virtual and in-person consultations complimentary
Treats
Loose, sagging facial skin
Neck, jawline, cheeks
Marionette lines
Deep wrinkles and folds
The area around the eyes
Brow/forehead
Smoker's lines
Acne scars through thread meshing
Results
Skin tightening
Skin lifting
Skin rejuvenation
Revitalization of your appearance
Enhance collagen and elastin production 
Virtual and in-person consultations complimentary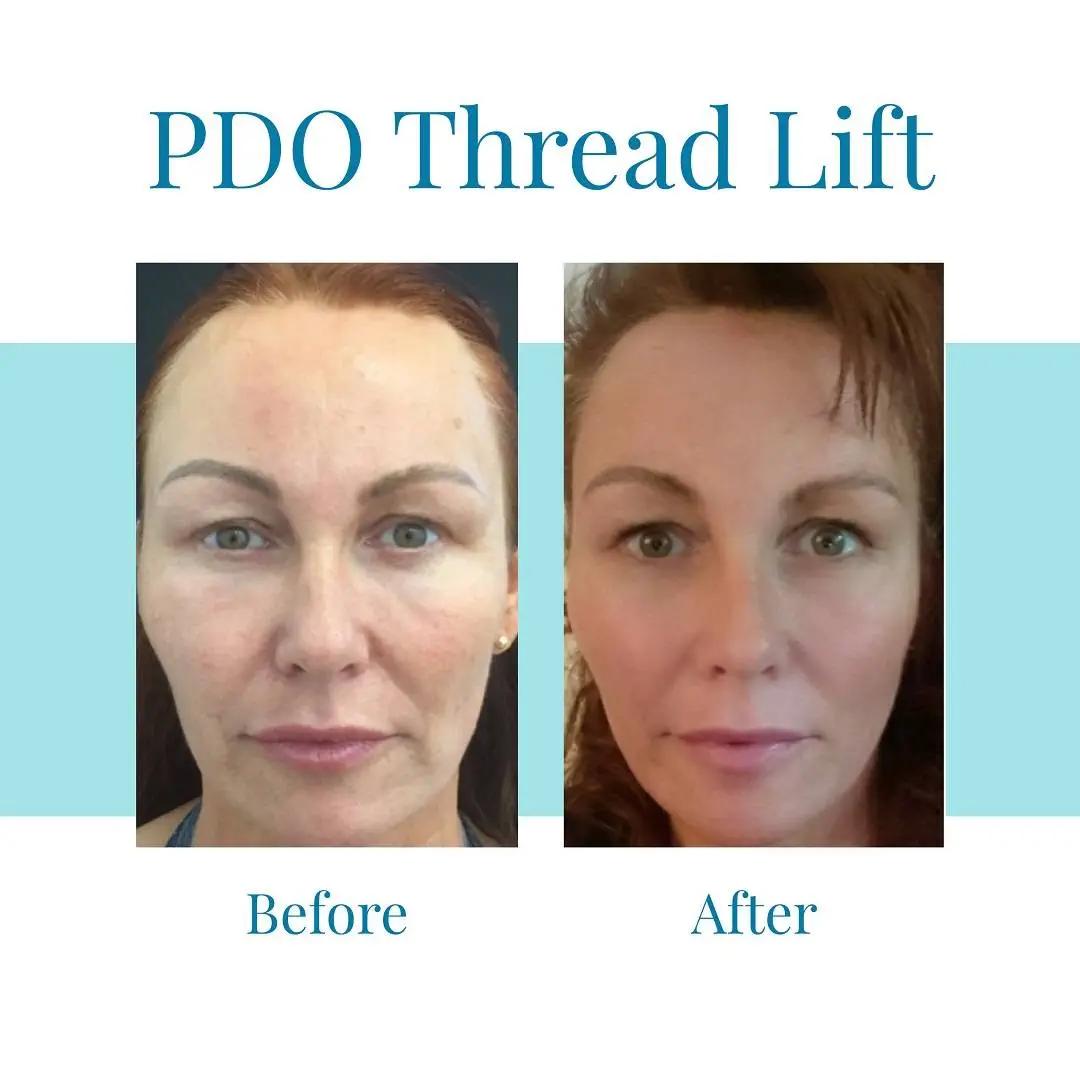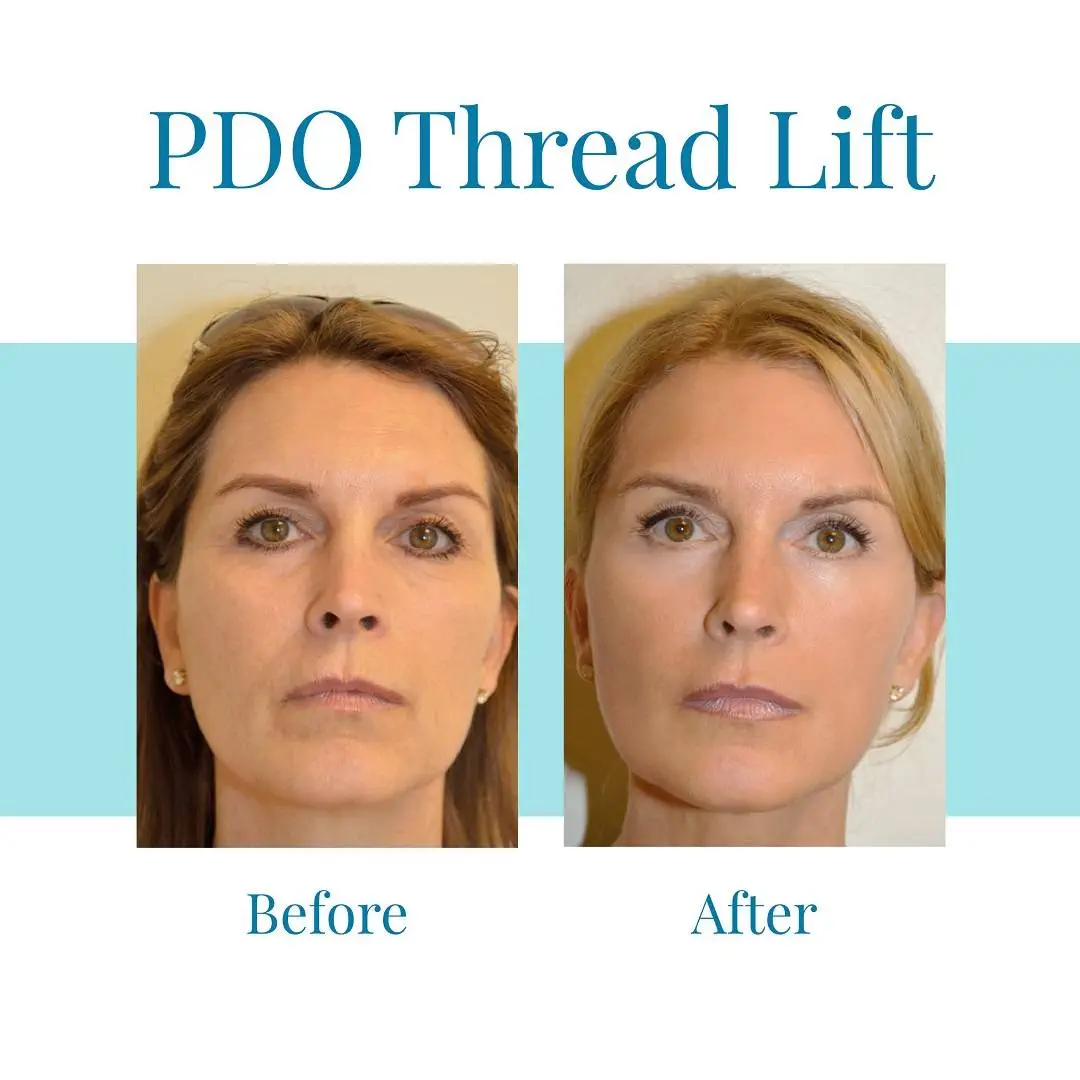 About PDO Thread Lifts
PDO is short for polydioxanone. For decades, these biodegradable threads have been used in procedures that need absorbable sutures, such as heart surgeries, orthopedics, and tissue engineering. Now PDO thread lifts are transforming the lives of our Buckhead and Alpharetta clients.
Skin naturally starts losing collagen and elasticity as we get older. This can result in sagging around the midface, eyes, neck, and jawline. For our Buckhead and Alpharetta clients, the PDO thread lift can renew, lift, and define sagging areas on their face and restore lost collagen.
Thread lifting with PDO threads is a non-invasive procedure, making it a gentler and kinder option in achieving a younger appearance. Using tiny biocompatible threads beneath the skin, the skin is "lifted" back to a more youthful state while also reducing fine lines and wrinkles.
PDO thread lifting is not only about pulling the skin into a new position, but also about stimulating the body's natural response to the threads – creating collagen, increasing blood flow, and pulling the skin tighter.
Instantly, your skin becomes firmer as the threads lift and tighten sagging skin. You continue to see improvements in your skin's appearance for four to six months as your body creates more collagen in the treatment area. Results can last up to 12 months, depending on how your skin responds to the treatment.
Benefits of a PDO Thread Lift
For our Buckhead and Alpharetta clients, PDO thread lifts offer skin rejuvenation, skin lifting, and a reduction in fine lines and wrinkles. However, there are other benefits, too, including:
Immediately visible and natural-looking results. PDO thread lifts show immediate results, and the results improve after a few months as the body creates new, healthy collagen.
The treatment is safe. PDO thread lifts are approved by the FDA and polydioxanone has been widely used for cardiovascular surgery and other medical purposes for more than a decade. It is an inherently safe material that the body does not reject. Furthermore, PDO threads are hypoallergenic and safe, meeting all the specifications of the United States Pharmacopeia (USP).
Customizable treatment. Thanks to the vast array of threads available and the capability to inject them from many angles, we can tailor the treatment to meet the specific cosmetic goals for the clients at our Buckhead and Alpharetta offices. Thin threads, for example, are great for restoring volume to cheeks and chins. On the other hand, thicker threads work well for lifting and tightening the skin under the neck and around the jawline.
No downtime, non-surgical option. Although many people want to fight the early signs of aging, not all are willing to undergo cosmetic surgery. On the other hand, thread lifts require no incisions or scarring and are done in just one office visit. There's minimal recovery time which means you can resume your regular day-to-day schedule right away. While you need to take some precautions, they will not really interfere with your routine.
Painless treatment. Threads penetrate only the uppermost layers of the skin. Because there are few nerve endings there, our Buckhead and Alpharetta clients tell us that a PDO thread lift treatment is not painful. In addition, the use of topical anesthetics prevents you from feeling any discomfort during the procedure.
Complements other treatments. One of the best things about PDO thread lifting is combining it with other cosmetic services such as dermal fillers and Botox injections without contraindications and side effects.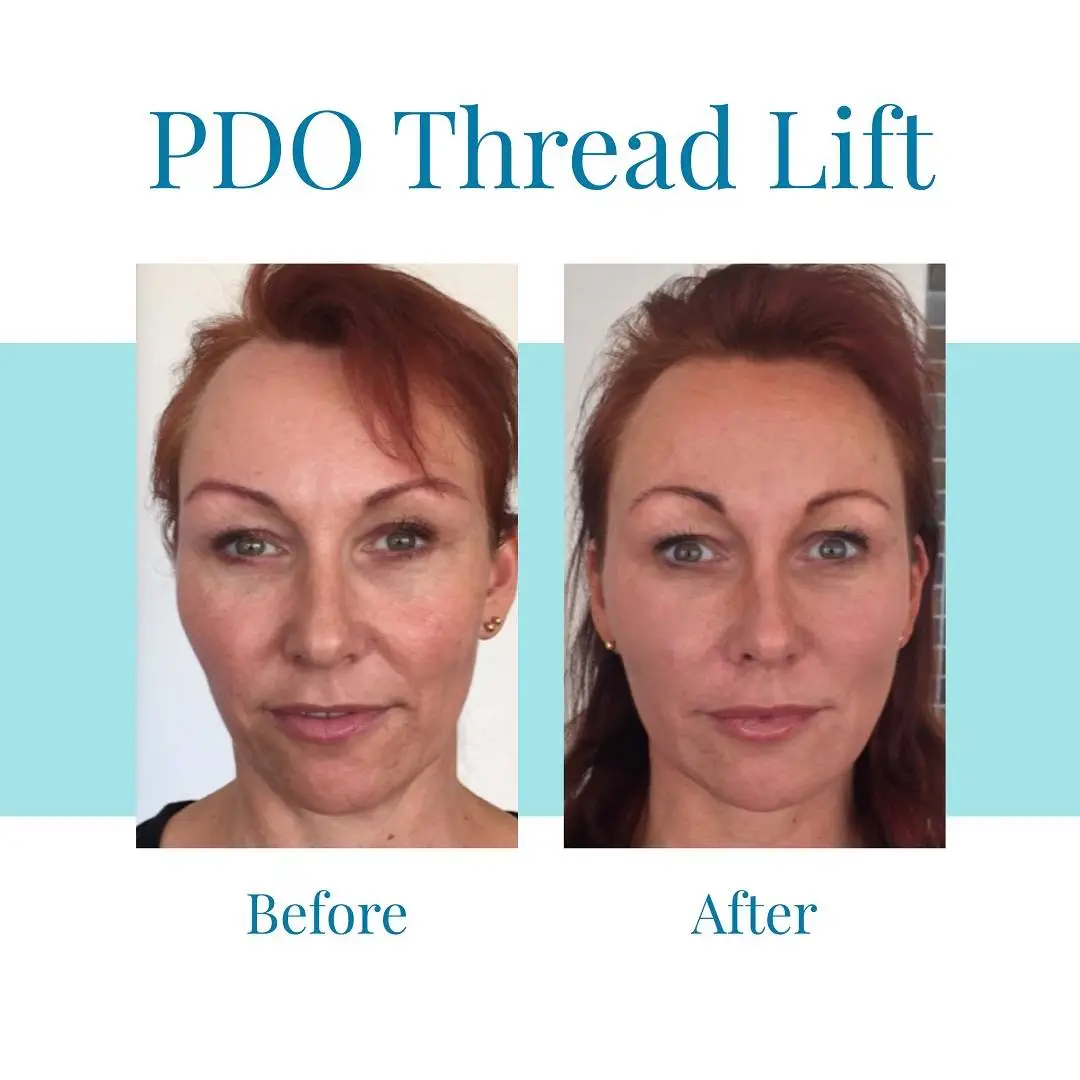 Preparing for Your PDO Thread Lift Treatment at Our Buckhead or Alpharetta Office
Prior to your PDO thread lift at our Buckhead or Alpharetta office, do not use any tobacco products for one week. In addition, one or two days before your treatment, begin hydrating well and avoid:
Products containing retinol,
Blood-thinning medications,
Ginseng, fish oil, and vitamin E,
Alcohol,
Gingko,
High-intensity workouts, and
Steam rooms and saunas.
What to Expect During Your PDO Thread Lift
To start, we will do a consultation at our Buckhead or Alpharetta office to determine your suitability for a PDO thread lift, including an examination of your skin and a discussion of your cosmetic goals. We will then ask for specific medical information, including past cosmetic surgery, medications, and any drug allergies.
Once we determine that you qualify for the treatment, we'll proceed. The average PDO thread lift treatment at our Buckhead and Alpharetta office takes about 30 minutes. The treatment begins with cleansing to remove dirt or oil on your face. Then, we'll numb the treatment area and administer local anesthesia, so you don't feel any pain during your treatment.
Next comes the injection to the treatment area. There are distinct types of threads to choose from, which will depend on what you want to achieve. Injecting PDO threads can be done with blunt needles or sharp needles, known as cannulas. These cannulas are inserted into different layers of the skin and allow the threads to anchor into place and lift your skin.
Recovery and Post-Treatment Care
In general, the recovery period for a PDO thread lift is about one week. You can expect temporary soreness or swelling during this time, but this will disappear quickly. In the PDO thread lift recovery process, most of our Buckhead and Alpharetta clients will notice that the texture of their skin gets plumper, and the wrinkles decrease. Results continue to improve over time.
Following your PDO thread lift treatment at our Buckhead or Alpharetta office, you will receive after-care instructions or restrictions for a speedy recovery and ensure the best results. Most of your restrictions and limitations will usually apply for the first 24 to 72 hours. Post-treatment instructions include:
Keep your head elevated; do not bend for too long
Don't sleep on your stomach or side
Avoid strenuous activity
No facial massage and exfoliation
Don't use make-up, facial creams, or other skincare products
Avoid excessive heat (sauna) and sun exposure
Minimize facial movements like too much smiling or laughing
Do not chew gum
Don't drink alcohol or smoke
You cannot take blood-thinning medications
Do not touch or rub your face
How Soon Will I See Results?
For most of our Buckhead and Alpharetta clients, some results of the PDO thread lifting treatment – such as skin lifting and some of the contouring effects – are visible immediately after treatment. In fact, your skin may look tighter when you walk out of our office than it will a week later.
The final results of your PDO thread lift will be seen within one to two months of your treatment. How long it takes depends a lot on your age., which is one of the leading factors in how quickly your body produces new, healthy collagen. Collagen is the protein responsible for plumping up your cheeks, filling in fine lines and smoothing out wrinkles.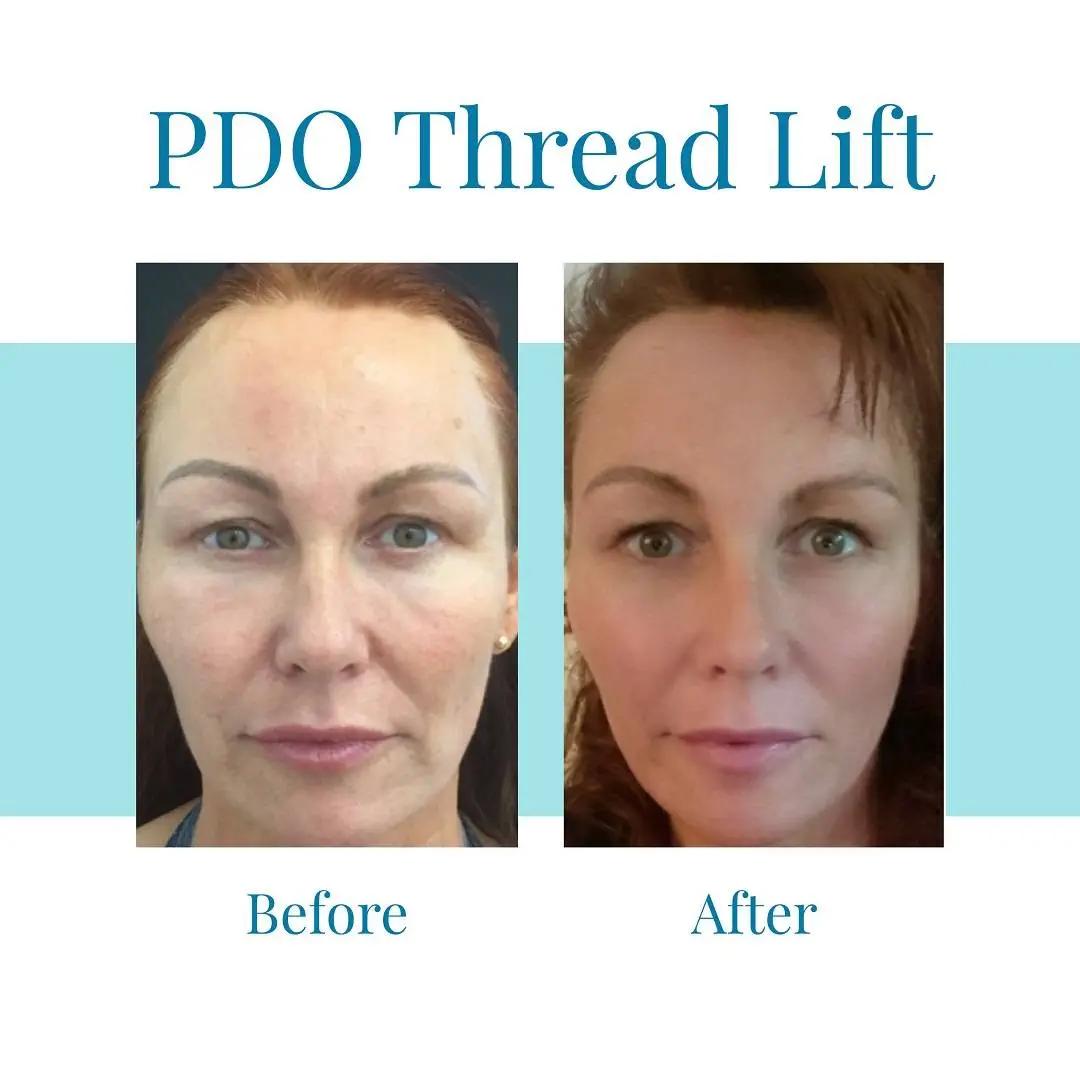 Are PDO Thread Lift Results Permanent?
The results of a PDO thread lift treatment are not permanent and gradually fade over time. Eventually, you may need to do another PDO thread lift treatment at our Buckhead or Alpharetta office to maintain results. While the treatment may not be permanent, the results are long-lasting compared to other cosmetic treatments because the skin can produce collagen under controlled healing.
How Much Does a PDO Thread Lift Cost?
The cost of a PDO Thread Lift is determined by the area being treated. Prices generally start at $1,200. Schedule a consultation to see what a PDO Thread Lift can do for you and get exact pricing.
*Disclaimer: This site and its content have been published for information and advertising purposes only. Results are never guaranteed and vary from patient to patient. Bella Medspa takes no responsibility for the accuracy of the content. Please contact us to book an appointment for individual diagnosis and treatment plan.