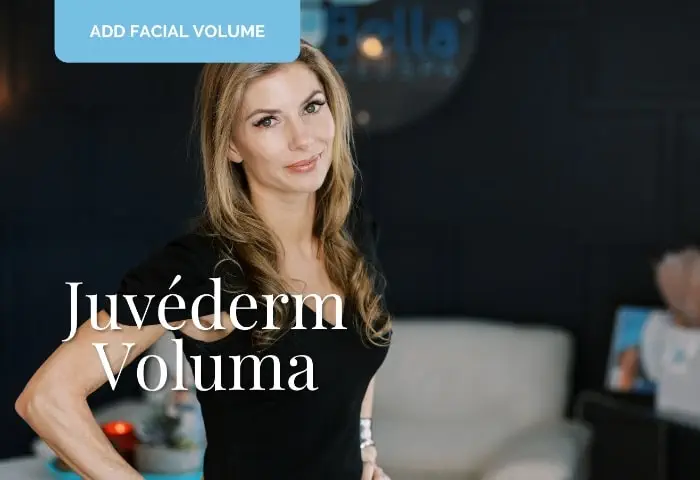 About Juvéderm Voluma
Juvéderm Voluma is the only FDA-approved dermal filler for the treatment of aging in the mid-face. Buckhead and Alpharetta women and men who are unhappy with lost volume in the cheek area can benefit from the contouring potential of Juvéderm Voluma. It is composed of an advanced formula that contains hyaluronic acid, a hydrating substance found naturally in the skin, which can provide long-lasting results.
With its unique composition, Juvéderm Voluma targets loss of volume in three areas of the cheek: the apex, apple, and hollow. When injected into one or more of these areas, clients can benefit from a more youthful contour to the midfacial region. Additionally, this restored volume helps correct a hollow appearance and fill in fine lines and wrinkles.
Benefits of Juvéderm Voluma
As we age, a combination of fat and bone absorption causes skin to sag and a hollowing of the cheeks to develop. Juvéderm Voluma works to temporarily reverse the effects of aging four our Buckhead and Alpharetta clients by restoring the volume in the mid-face. Juvéderm Voluma treats the root problem of mid-face aging changes, and improves the appearance, convexity, and contour of the area.
Some of the primary benefits of Juvéderm Voluma include:
Instantly lifts and fills the cheeks to give you a more youthful appearance.
Tightens the skin and erases the most obvious wrinkles.
Offers face contouring to immediately improve your appearance by perfecting the way you look.
Helps produce collagen naturally.
Provides minimal downtime with quick recovery.
Offers long-lasting results – up to two years for some of our Buckhead and Alpharetta Juvéderm Voluma clients.
Combines well with other kinds of treatments.
With the ability to add instant volume to the cheeks, it's no wonder that so many Buckhead and Alpharetta women and men have turned to Bella for Juvéderm Voluma.
How Does Juvéderm Voluma Work?
Juvéderm Voluma is a hyaluronic acid filler. Hyaluronic acid is a moisturizer that is found naturally in our skin. Over time, the amount of hyaluronic acid diminishes, which leads to sagging. By replacing this component in the skin, Juvéderm Voluma can return the firm, plump, and contoured look of the young mid-face to our Buckhead and Alpharetta clients.
Juvéderm Voluma is injected deep into the skin, just above the cheekbone to restore volume. If pain is your concern, no need to worry. Juvéderm Voluma comes pre-mixed with lidocaine for client comfort. Lidocaine will numb during and after the injections.
While each Buckhead and Alpharetta client is different, the number of Juvéderm Voluma syringes needed depends on the amount of volume loss. A general rule of thumb is one syringe per decade of life. However, some clients may benefit from less and some may need more. Either way, the ultimate effect is outstanding.
When Will I See Results?
Many of our Buckhead and Alpharetta Juvéderm Voluma clients report noticing an immediate fullness to their face within hours of completing the treatment. Results will become more obvious within one to three weeks following the injections as the hyaluronic acid settles beneath the skin and stimulates quicker collagen production.
Juvéderm Voluma replaces lost volume, while lifting and tightening the skin to reduce the appearance of deeper expression lines and wrinkles. This treatment focuses on the cheeks, filling in the hollows beneath cheekbones and helping redefine the largest portion of the face for a restored youthful appearance.
How Long is the Recovery Time?
After your Juvéderm Voluma treatment at our Buckhead or Alpharetta location, you are free to return to most of your normal daily activities, such as running errands or going to work. You will be allowed to use make-up and skin care products on the same day of your treatment.
You can expect some swelling or redness at the injection sites, which are temporary side effects that resolve themselves within hours after treatment. Juvéderm Voluma is considered a zero-downtime treatment.
Preparing for Your Juvéderm Voluma Treatment at Our Buckhead or Alpharetta Office
If this is your first Juvéderm Voluma treatment at our Buckhead or Alpharetta office, then be prepared to discuss your medical history, including questions about prior procedures, treatments, surgeries, illnesses, and medications you have taken.
Think about your desired results for your treatment and be prepared to share those with your injector. In addition, take photos of the area to be treated, so that you can track your results.
Before your treatment appointment:
Avoid taking aspirin or other similar pain relievers three to seven days before treatment.
Avoid taking certain supplements, such as Vitamin E and others, three to seven days before treatment.
Avoid using certain products, such as retinol, three to seven days before treatment.
Following these guidelines will ensure a successful treatment.
What to Expect During Your Juvéderm Voluma Treatment
During your Juvéderm Voluma injection at our Buckhead or Alpharetta office:
Your skin will be cleansed prior to treatment.
A cream or ointment called a topical anesthetic will be used to numb the area where your injection will be received your injection.
Your injector will begin the treatment by giving you the first injection, then pausing to allow the anesthetic that is part of Juvéderm Voluma to continue to numb the area around your injection. The anesthetic part of Juvéderm Voluma has been shown to significantly reduce the pain and discomfort that may occur with a dermal filler gel injection.
Your injector will continue the injection of Juvéderm Voluma until the area being treated shows the desired results.
After the injection is completed, your injector may gently massage the area that was treated to ensure the dermal filler gel is distributed evenly and looks natural.
Your Juvéderm Voluma treatment appointment at our Buckhead or Alpharetta location will take 15 to 60 minutes to complete, depending on how much work needs to be completed. Most clients report that the treatment injections are painless and quick. If you are particularly sensitive, we may recommend you take breaks between injections or use an approved pain reliever.
Aftercare and Possible Side Effects
After treatment, there are a few instructions you will be asked to follow to guide you through the recovery process. These guidelines will help with your healing and ensure that the treatment is as effective as possible. Some post-treatment guidelines may include:
Avoiding excessive heat and strenuous activity for one to seven days after treatment.
Avoiding direct sun exposure until recovered.
Use sunscreen and any medications or products we prescribe to you.
Avoid taking certain medications or supplements for three to seven days after treatment.
Avoid alcohol for at least 24 hours.
Avoid squeezing or massaging the treated area for five to 12 days after treatment.
We may give you other advice to follow to help with your recovery, depending on your unique situation, such as instructions to sleep elevated for a few days after treatment.
Common side effects reported by our Buckhead and Alpharetta Juvéderm Voluma clients include bruising, redness, swelling, pain, itching at the site of injection.
*Disclaimer: This site and its content have been published for information and advertising purposes only. Results are never guaranteed and vary from patient to patient. Bella Medspa takes no responsibility for the accuracy of the content. Please contact us to book an appointment for individual diagnosis and treatment plan.