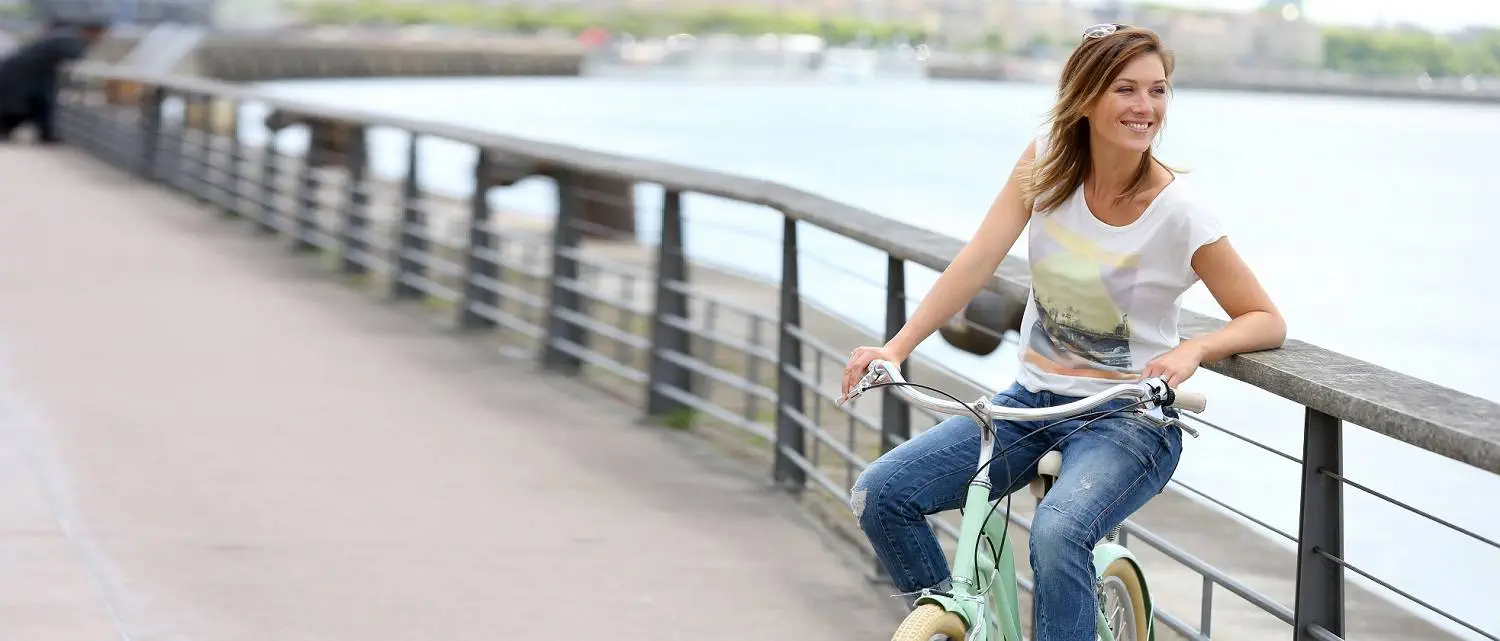 Bella is the leading provider of Xeomin in Buckhead and Alpharetta.
Xeomin Buckhead and Alpharetta
Frown lines form when facial expressions are made as the muscle under the skin contracts. Xeomin blocks the release of chemicals that cause these muscle contractions, so frown lines are softened.
Reduce Frown Lines
After Botox and Dysport came Xeomin. Approved by the FDA for the treatment of severe frown lines and adults with cervical dystonia or blepharospasm (eye spasm), Xeomin is used by many people worldwide, include quite a few of our clients at our Buckhead and Alpharetta locations. The newest of the botulinum toxin type A products, Xeomin blocks nerve activity in the muscles, causing a temporary reduction in muscle activity. It is used to treat spasms in the neck muscles and eye muscle conditions that are caused by nerve disorders.
While all three fillers provide our Buckhead and Alpharetta clients comparable results, Xeomin has significant differences. Unlike Botox and Dysport, Xeomin does not contain additives. As a result, a client's likelihood of developing antibodies may decrease. Furthermore, it takes roughly one week for the full effects of Xeomin injections to be visible. Once this occurs, results last from three to six months.
As with all filler treatments, you may experience some mild redness and temporary swelling. A small percentage of our Buckhead and Alpharetta Xeomin clients experience some bleeding and bruising at the injection site.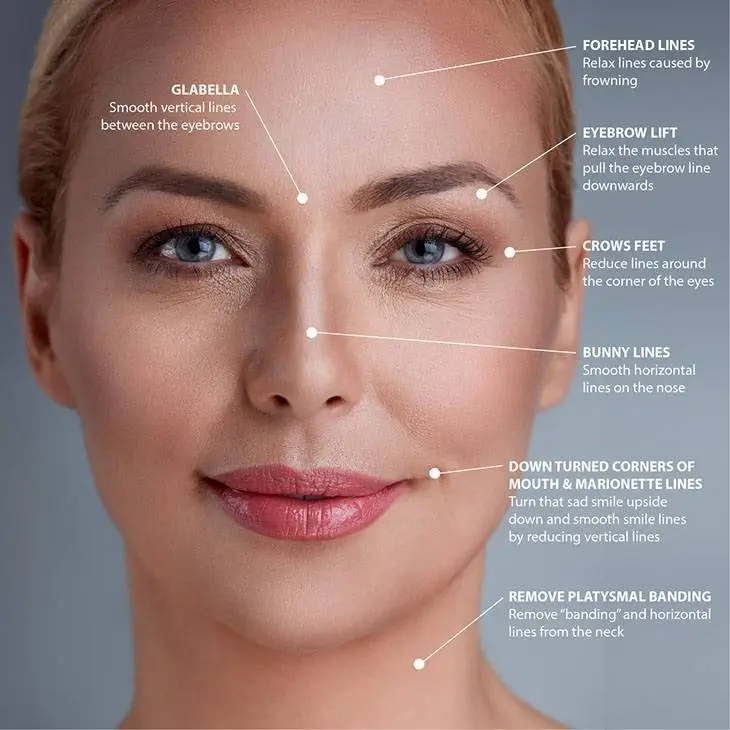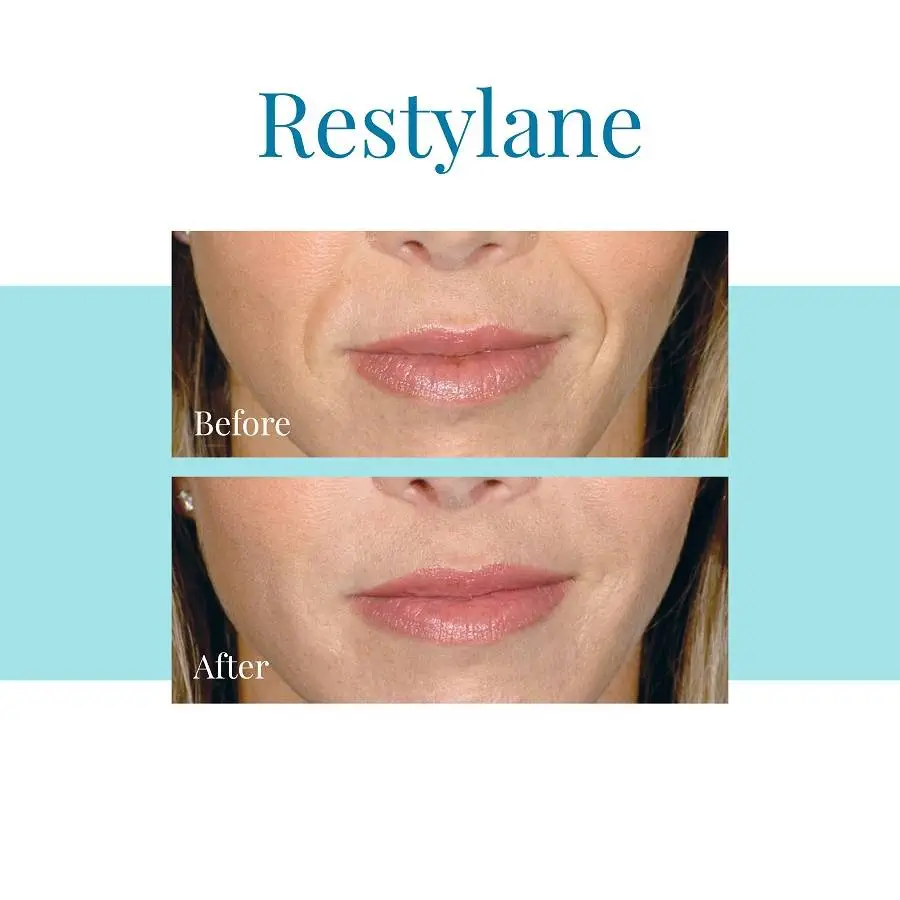 Benefits of Xeomin
Smooths the appearance of wrinkles in between the eyebrows, around the eyes, in the forehead, or around the mouth.
Blocks the signal from the nerve to muscles, causing the muscle to relax and preventing further wrinkling.
Short treatment time, fast recovery time, and noticeable results within two weeks
Less likely to cause allergic reactions because of to the absence of added fillers.
The Naked Botox
While the above list offers our Buckhead and Alpharetta Xeomin clients extensive benefits, perhaps the greatest benefit is that it is highly unlikely your body will build up resistance to Xeomin. Because Botox and Dysport not only contains botulinum toxin type A, but also additional proteins, it is possible to become desensitized to these products, so that the Botox and Dysport may not work as well after many years of injections.
Xeomin is often called "naked Botox" because it contains a "naked" form of botulinum toxin, without any additional proteins. Unlike Botox and Dysport, which contain accessory proteins, Xeomin is designed to deliver the toxin without any protein additives. This lack of accessory proteins makes it highly unlikely that any of our Buckhead and Alpharetta Xeomin clients will build up resistance to the product.
How Does Xeomin Work?
Xeomin works by weakening the muscles of facial expression that are visible on the surface of the skin. Weakening the pull of these muscles on the skin causes the visible wrinkles to flatten out and disappear.
How to Prepare for Your Xeomin Treatment at Our Buckhead or Alpharetta Office
Do NOT consume alcoholic beverages at least 24 hours prior to your Buckhead and Alpharetta treatment (alcohol may thin the blood and increase the risk of bruising).
Avoid taking aspirin, Ibuprofen, vitamin E, ginger, ginkgo biloba, ginseng, and garlic 10 days to 14 days prior to the procedure. These drugs and herbs may cause excessive bleeding or bruising.
Schedule your Buckhead or Alpharetta Xeomin appointment at least two weeks prior to a special event that you may be attending, such as a wedding or a vacation. Results from the Xeomin injections will take approximately four days to seven days to appear. Also, bruising and swelling may be apparent during that time.
Discontinue Retin-A or retinol products two days before and two days after treatment.
Reschedule your Buckhead and Alpharetta Xeomin appointment at least 24 hours in advance if you have a rash, cold sore, or blemish on the area.
If you have a history of cold sores, please let your injector know, so you can be put on an anti-viral medication prior to treatment, if necessary.
Be sure to have a good breakfast, including food and drink before your procedure. This will decrease the chances of lightheadedness during your treatment.
You are not a candidate if you are pregnant or breastfeeding.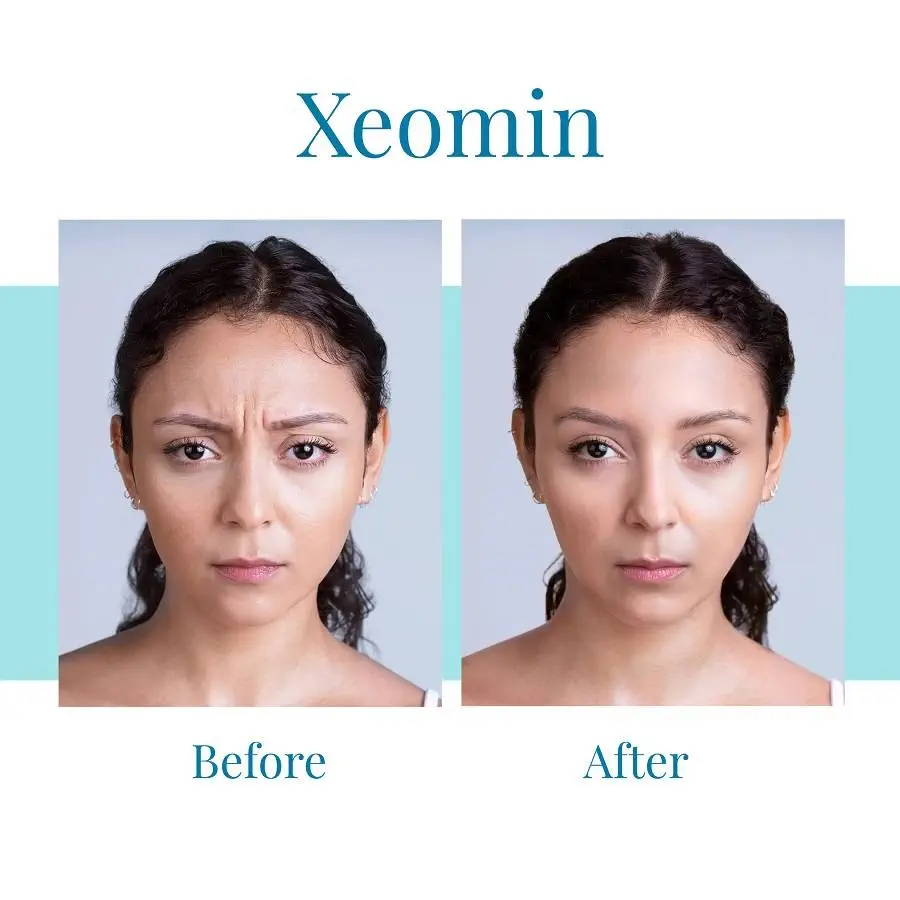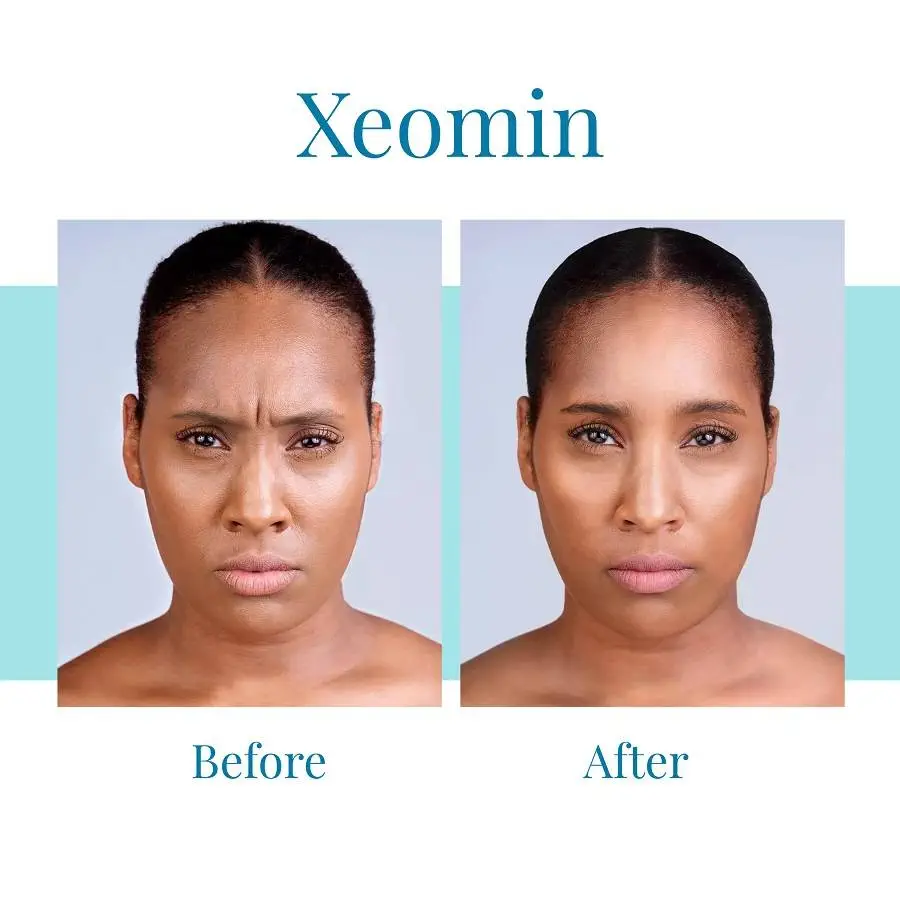 Aftercare and Possible Side Effects
Do NOT manipulate the treated area for three hours following treatment.
Avoid lying down for four to six hours afterward to keep the Xeomin where it is supposed to go and not have it track elsewhere.
Do NOT perform activities involving straining, heavy lifting, or vigorous exercise for six hours after treatment. This will keep the Xeomin in the injected area.
Do NOT receive facial treatments, laser treatments, or microdermabrasion for at least 10 days.
It can take approximately four days to seven days for results to be seen. If the desired results are not seen after two weeks of your treatment at either our Buckhead or Alpharetta office, then you may need additional Xeomin.
The most common possible side effects of a Xeomin injection are eyelid ptosis (drooping), dry eyes, visual impairment, possible onset of a cold, injection site pain, dry mouth, muscle weakness, and neck pain.
Which Areas Can Be Treated?
For our Buckhead and Alpharetta Xeomin clients, we have treated pretty much every portion of the face to prevent wrinkle formation, reduce the look of wrinkles and other skin imperfections, and revamp the look of their skin for a healthy, youthful glow.
The following is a list of skin conditions that can be effectively treated at our Buckhead and Alpharetta offices with cosmetic Xeomin injections.
Horizontal Lines on the Forehead: When it comes to permanent wrinkle formation, the forehead is arguably the most problematic part of the face. After all, it dictates the structure of most of your facial expressions. Whether you're showing concern, aggravation, irritation, anger, or surprise, the forehead is responsible for several facial expressions that can lead to unsightly horizontal lines. Xeomin can correct these issues for our Buckhead and Alpharetta clients.
Frown Lines: Did your mother ever tell you, "If you frown, your face will get stuck like that"? There was some truth to this. The reality is that whether you're constantly frowning or smiling, repetitive facial muscle movements will eventually cause the development of deeply embedded wrinkles in your skin. For our Buckhead and Alpharetta clients, Xeomin is an excellent way to combat this.
Crows' Feet: No other skin imperfections give away your actual age or make you look much older than you are than crows' feet. Crows' feet are often an undeniable sign of getting older, but in some cases, they can also be caused simply by neglecting to implement a strong skin care regimen or even sleeping on the side of your face too much. Treating the areas next to your eyelids with dermal fillers can help reduce and even eradicate the look of crows' feet almost instantaneously.
Smokers' Lines: Long-term smoking doesn't just have a negative impact on your overall health, it can also cause premature aging in the skin, particularly around the neck. Although Xeomin can't treat a sallow skin complexion directly, the results of this treatment could help improve your skin tone over time. By reinvigorating your skin's natural collagen production and therefore boosting your skin's elasticity, it's certainly possible to repair some or most of the skin damages caused by years of smoking cigarettes.
Jaw Line Slimming: Because Xeomin is classified as a neuromodulator – just like Botox – it can work effectively to reduce your jaw line for our Buckhead and Alpharetta clients who prefer to opt for a non-surgical procedure. The masseter muscle is a pivotal component of the overall structure in the jaw that's connected to the lower jawbone and cheekbone. Thus, it facilitates several lower facial functions, including chewing, smiling, and speaking.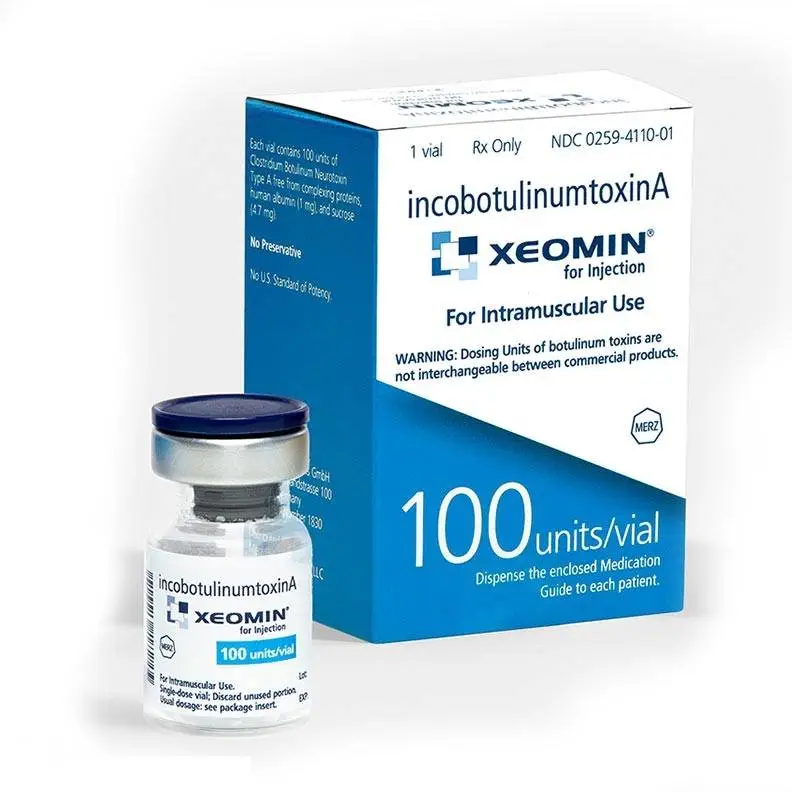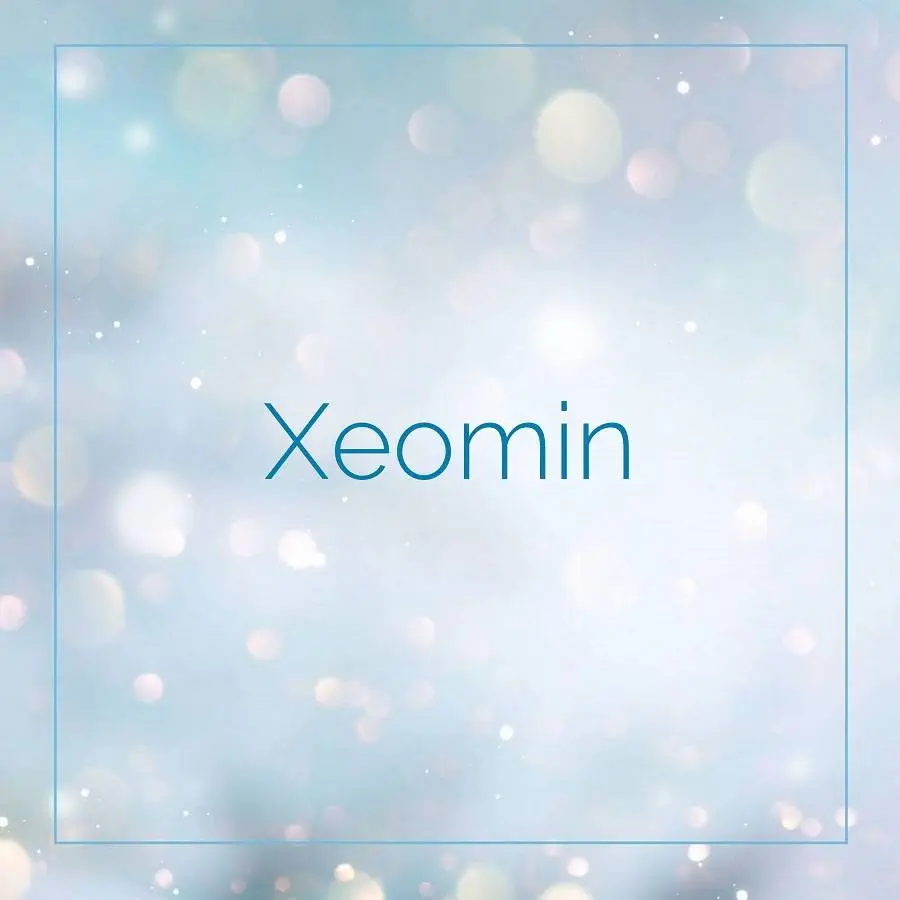 How Much Does Xeomin Cost?
Xeomin costs $10 per unit. The size of the area being treated is a vital factor in determining the total cost of Xeomin. Treating a small area can take 30 units of Xeomin and cost $300, while a larger area can require 50 units of Xeomin and cost $500.
*Disclaimer: This site and its content have been published for information and advertising purposes only. Results are never guaranteed and vary from patient to patient. Bella Medspa takes no responsibility for the accuracy of the content. Please contact us to book an appointment for individual diagnosis and treatment plan.