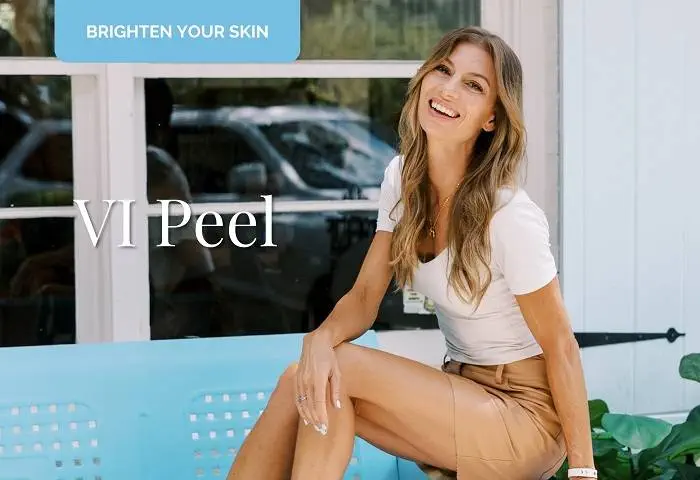 VI Peel
Tighten, smooth, and brighten your complexion with the VI Peel, which is specifically formulated to rejuvenate and help prevent future damage to your skin. This is a great first-time peel for all age groups who want fresh, healthy, and radiant skin.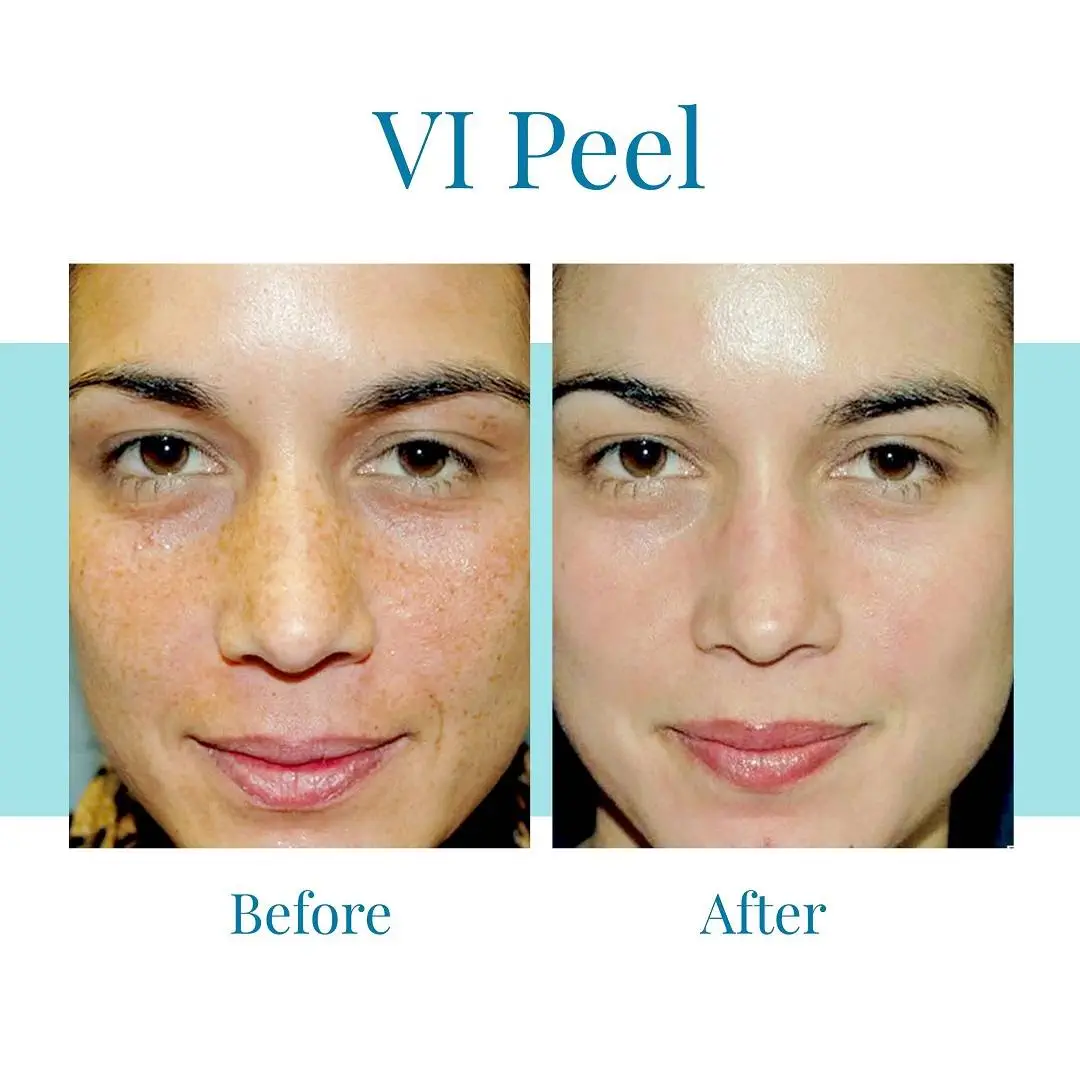 About VI Peel
A VI Peel is a medium-depth chemical peel offered at our Buckhead and Alpharetta locations that penetrates your top layer of skin – the epidermis – reaching into the dermis underneath and contains a synergistic blend of powerful ingredients suitable for all skin types. Like other chemical peels, a VI Peel works by exfoliating your skin and stimulating the production of new proteins. We use the VI Peel will help to not only improve skin tone, texture, and clarity for our Buckhead and Alpharetta clients, but also provide anti-aging benefits.
A VI Peel is gentle enough that we can safely use it on the face, chest, eyelids, hands, and back of our Buckhead and Alpharetta clients. This type of peel can be used on all skin types and tones.
The VI Peel addresses fine lines and wrinkles, acne and acne scarring, hyperpigmentation due to sun damage and melasma, and promotes overall smoother skin texture by refining pores, controlling oil, and stimulating collagen production. All this with minimal downtime and discomfort.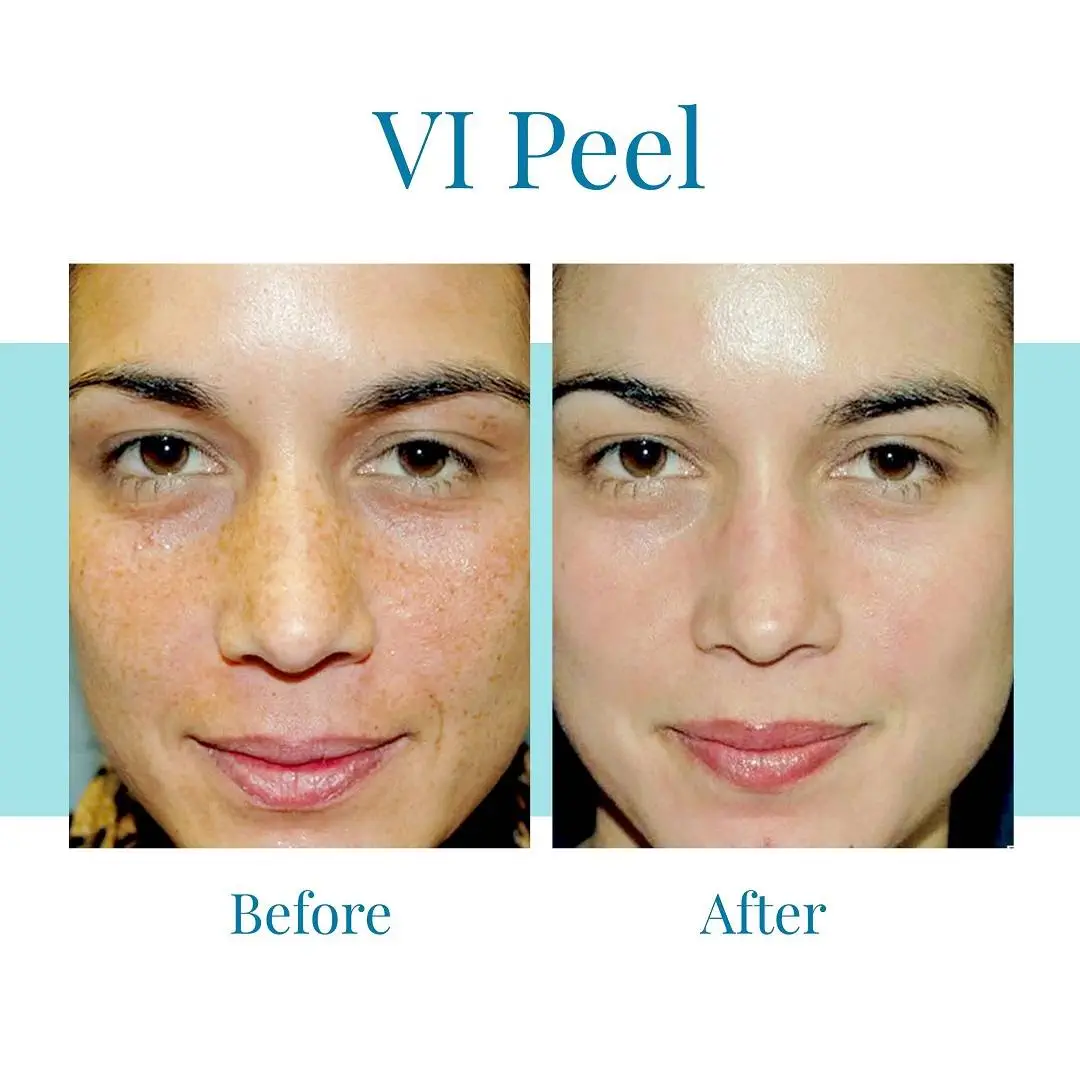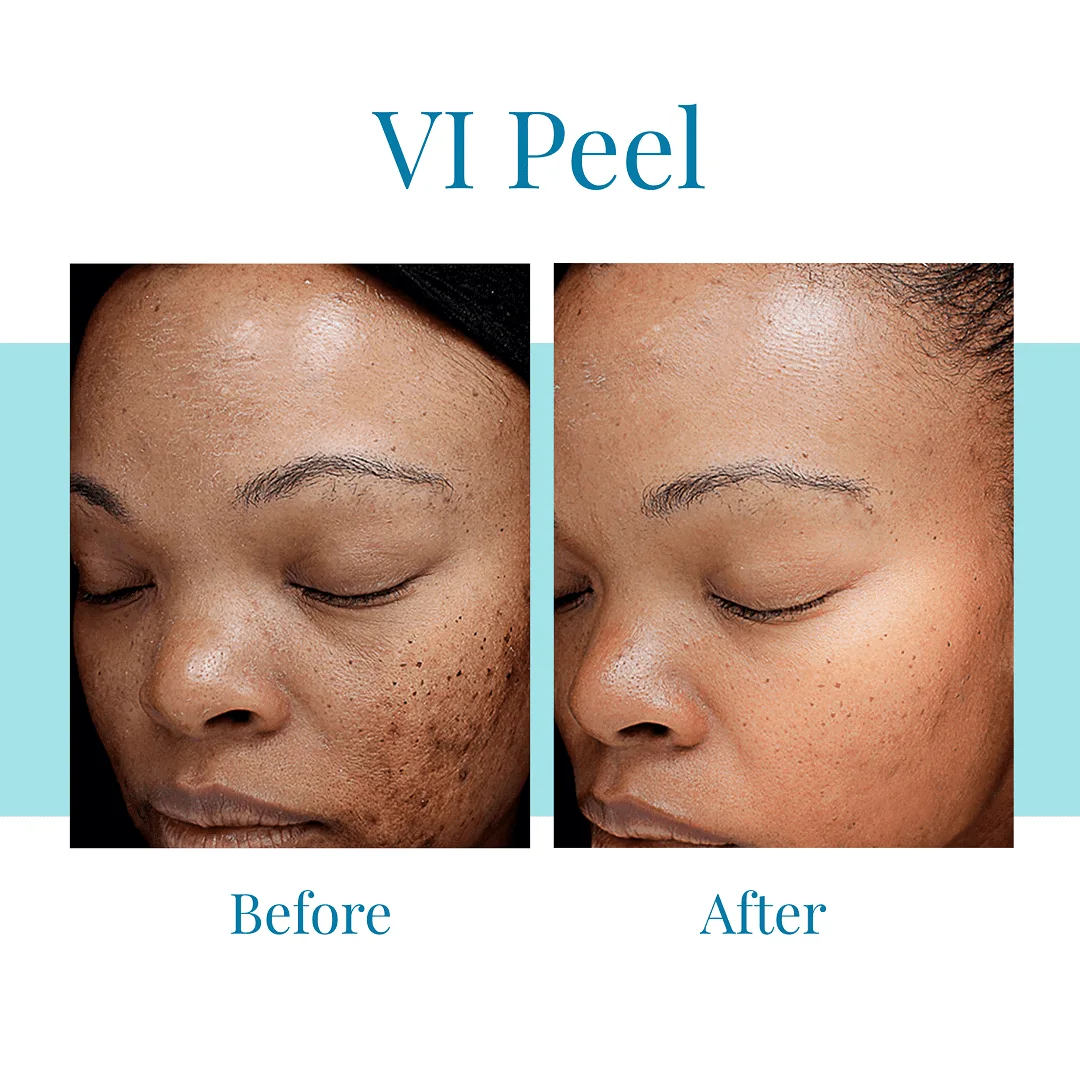 What's In a VI Peel?
A VI Peel is loaded with the following beneficial ingredients.
What Can a VI Peel Treat?
A VI peel is great for treating a variety of skin conditions.
Fine lines and wrinkles: The VI Peel breaks down your top layers of skin cells. This breakdown can stimulate your body's natural healing process and the production of new collagen and elastin. Collagen and elastin are the two key proteins that give your skin its structure and elasticity. Loss of these proteins contributes to the formation of wrinkles.
Sun spots and discoloration: The VI Peel can potentially help you lighten areas of skin darkened by sun damage or skin conditions such as melasma. One of the key ingredients in VI Peels is phenol, which is effective for treating freckles and discoloration.
Keratosis pilaris: Some of the active ingredients in a VI Peel, such as salicylic acid, may help break down bumps caused by keratosis pilaris (chicken skin). Keratosis pilaris is a common condition in which dead skin cells clog hair follicles and produce bumps that resemble the skin of a plucked chicken.
Acne: We often use a VI Peel to improve acne for our Buckhead and Alpharetta clients. A VI Peel can treat acne by reducing oil production, killing bacteria, reducing inflammation, breaking down your outer layer of skin, and reducing your number of clogged pores. Salicylic acid, one of the key ingredients in a VI Peel, is also one of the best treatments for acne scars.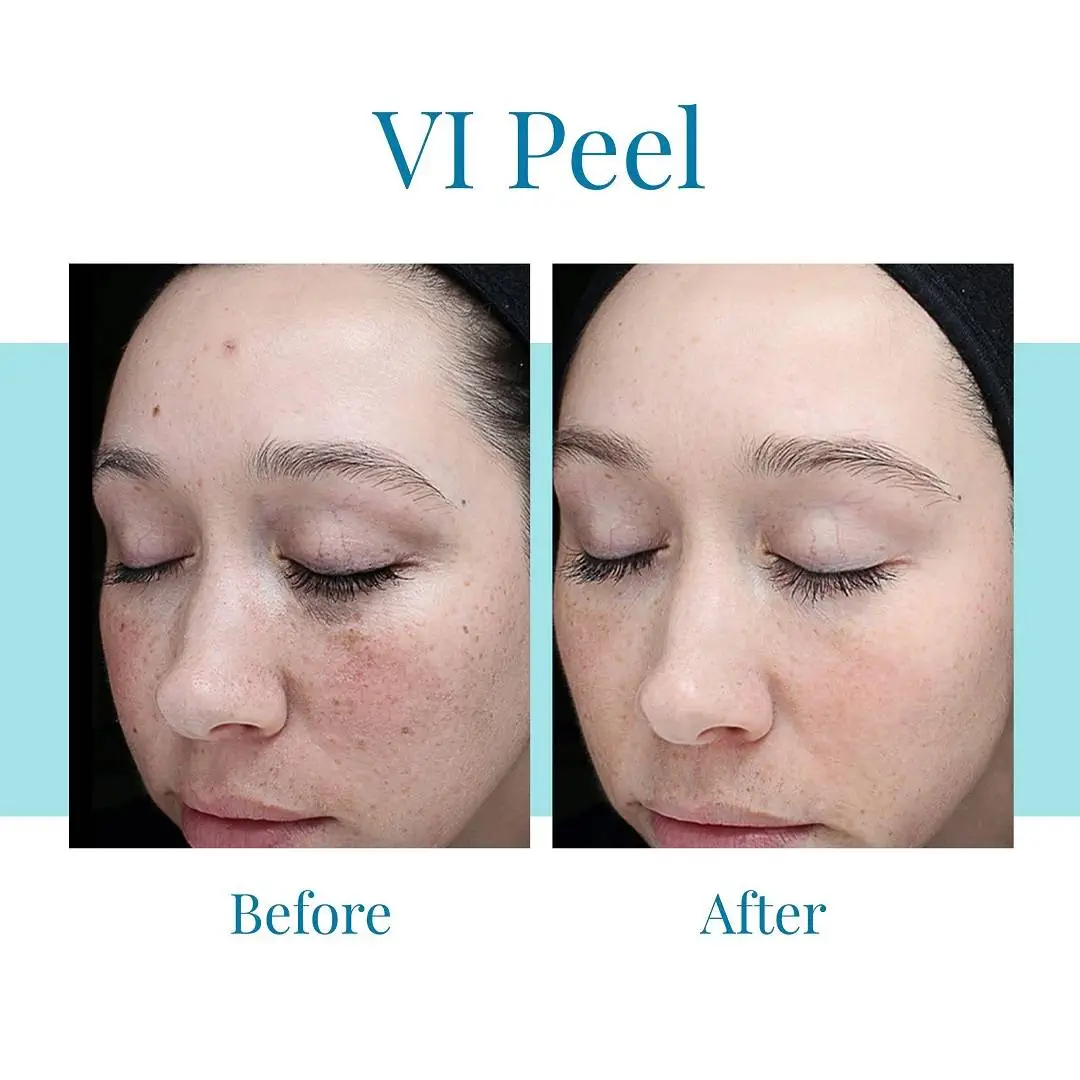 How Long Does a VI Peel Treatment Take?
A VI Peel at our Buckhead and Alpharetta locations only takes about 30 minutes and is usually painless. It uses a blend of ingredients to break down your top layer of skin and reveal healthy skin underneath.
Your exact procedure may differ slightly, but here's what you can expect:
Your aesthetician will cleanse your skin to remove dirt and oil.
The VI Peel solution will then be applied in two layers.
You may experience some numbness or tingling once the first layer is applied.
Once the second layer is applied, your skin will "frost," or turn white.
About four to six hours later, you'll wash off the peel.
Your skin will start peeling about three days after the procedure.
Am I a Candidate for a VI Peel?
While a VI Peel is considered safe for every skin type, those with susceptible skin, impaired wound healing, conditions such as eczema, diabetic skin issues, psoriasis, and autoimmune skin conditions, as well as those with darker skin types for whom peels and laser treatments may pose an extra risk, should avoid the VI Peel.
If you're pregnant or breastfeeding, you should speak with a doctor before getting a VI peel. Because of a lack of research, chemical peels that contain TCA or salicylic acid are not recommended while pregnant.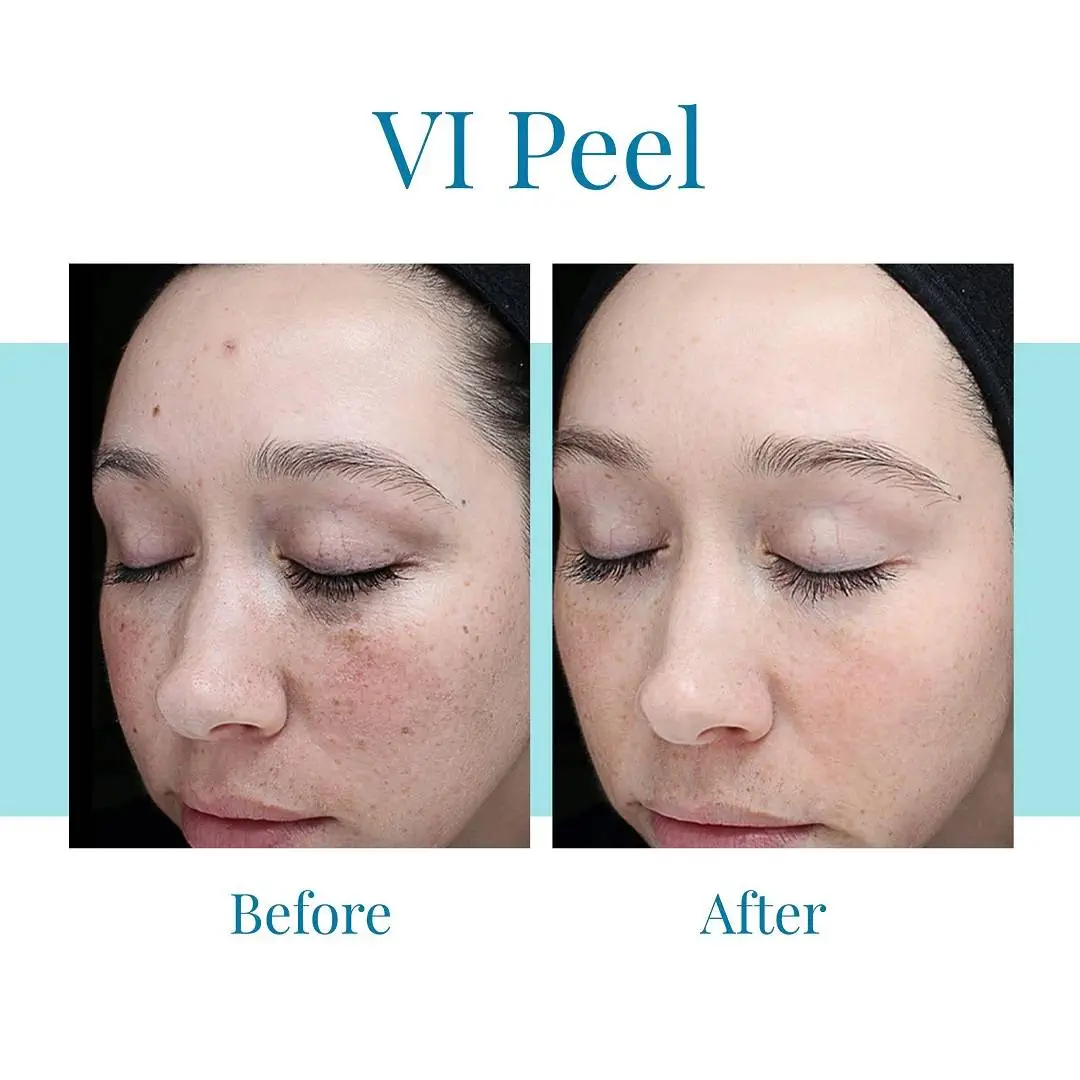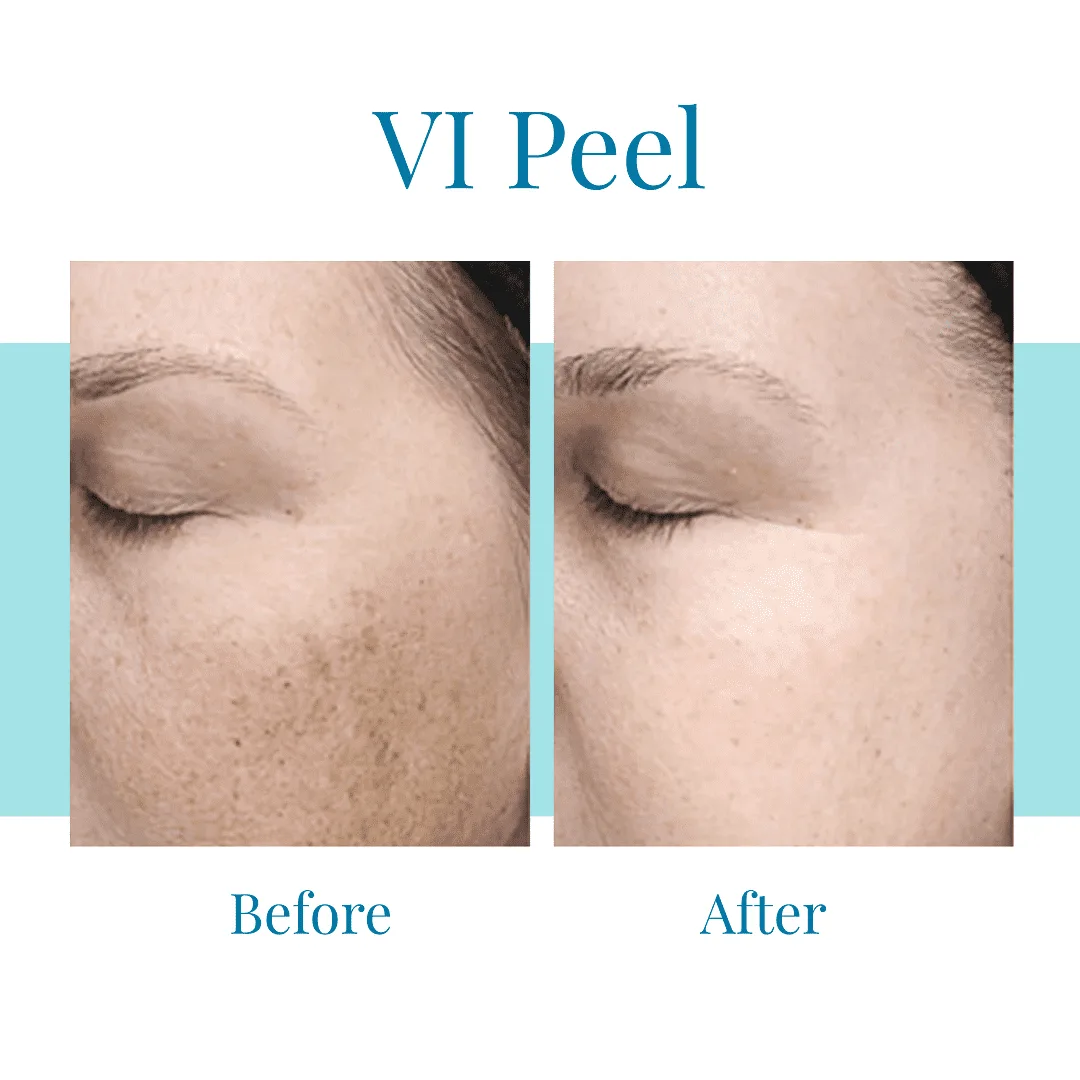 VI Peel Side Effects
Our Buckhead and Alpharetta clients tolerate a VI Peel very well. However, some clients may experience side effects, such as:
Burning pain
Skin discoloration
Swelling
Blistering
Itchiness
Allergic reaction
Infection
Dry skin
Inflammation
Redness
Scarring
People with dark skin have the highest risk of developing skin discoloration after a chemical peel.
VI Peel Aftercare for Our Buckhead & Alpharetta Clients
About four to six hours after your VI Peel at our Buckhead and Alpharetta office, and at least an hour before bed, you should wash off the peel using a mild cleanser and water. Your skin will start to peel three days after treatment.
You can take care of your skin after your procedure by:
Avoiding applying any creams or lotions until you wash off your peel.
Applying the post-peel protectant given to you after your procedure two to four times per day.
Applying moisturizer frequently until you're done peeling.
Avoiding direct sunlight when your skin is peeling and making sure you wear sunscreen whenever you go outside.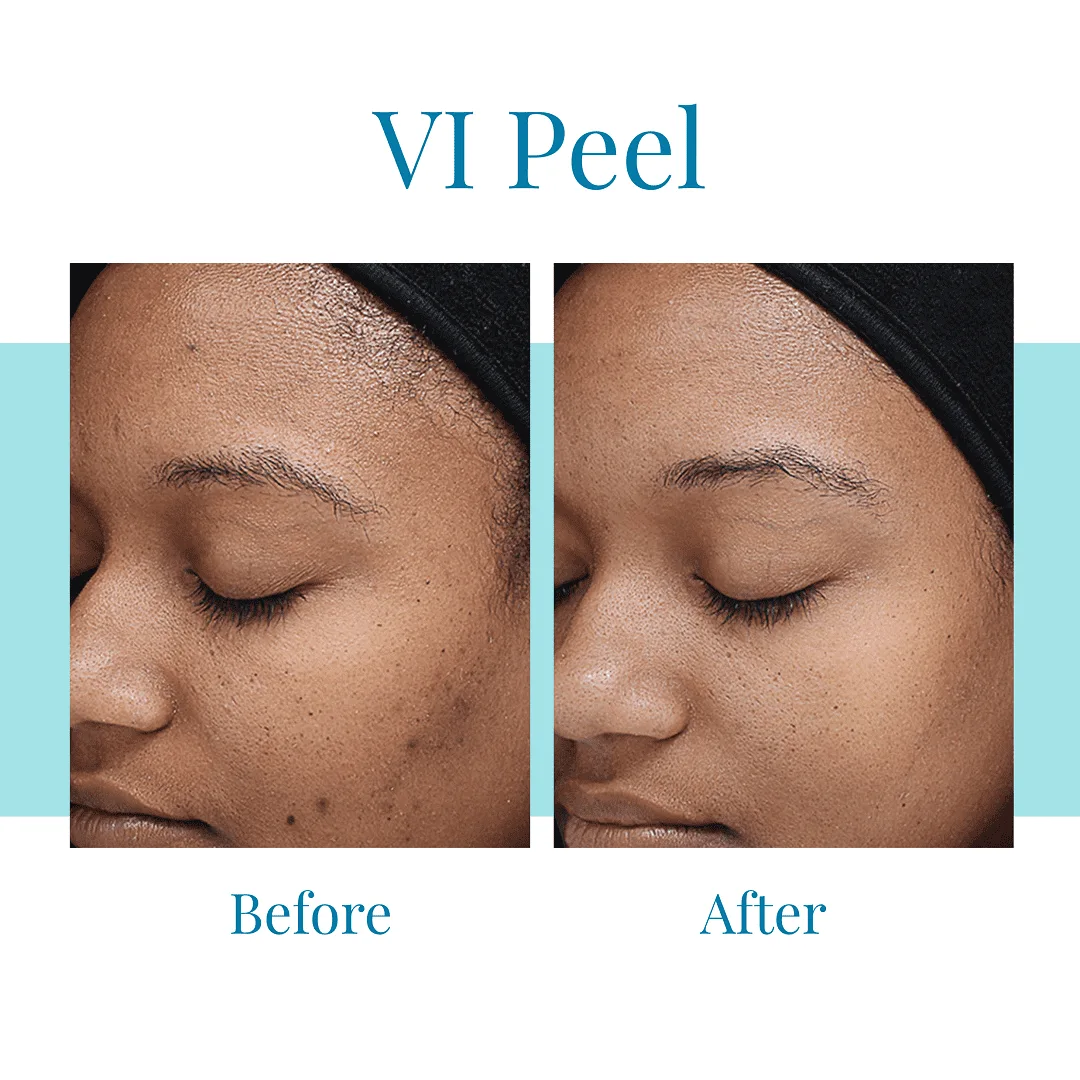 VI Peel vs. Similar Treatments
A VI Peel at our Buckhead and Alpharetta locations can be a stand-alone treatment or combined with other skin treatment methods. Many skin care procedures offer similar benefits. You may want to experiment with different procedures until you find one that works for you.
Some other common procedures include:
HydraFacial: A HydraFacial is a patented technique that exfoliates and hydrates your skin while infusing it with a serum.
Microdermabrasion:  The skin is deep-cleaned with a medical skin spatula, exfoliated through diamond microdermabrasion, then hydrated with a high-potency cannabidiol and sweet almond oil mask.
Radiofrequency (RF) Therapy: ThermiLift is the highest-powered radiofrequency laser for skin tightening and repairing delicate skin on the face and neck. This device is fitted with one of several hand pieces to treat texture issues, laxity, and firmness of the skin on the forehead, eye areas, cheeks, mouth, and neck.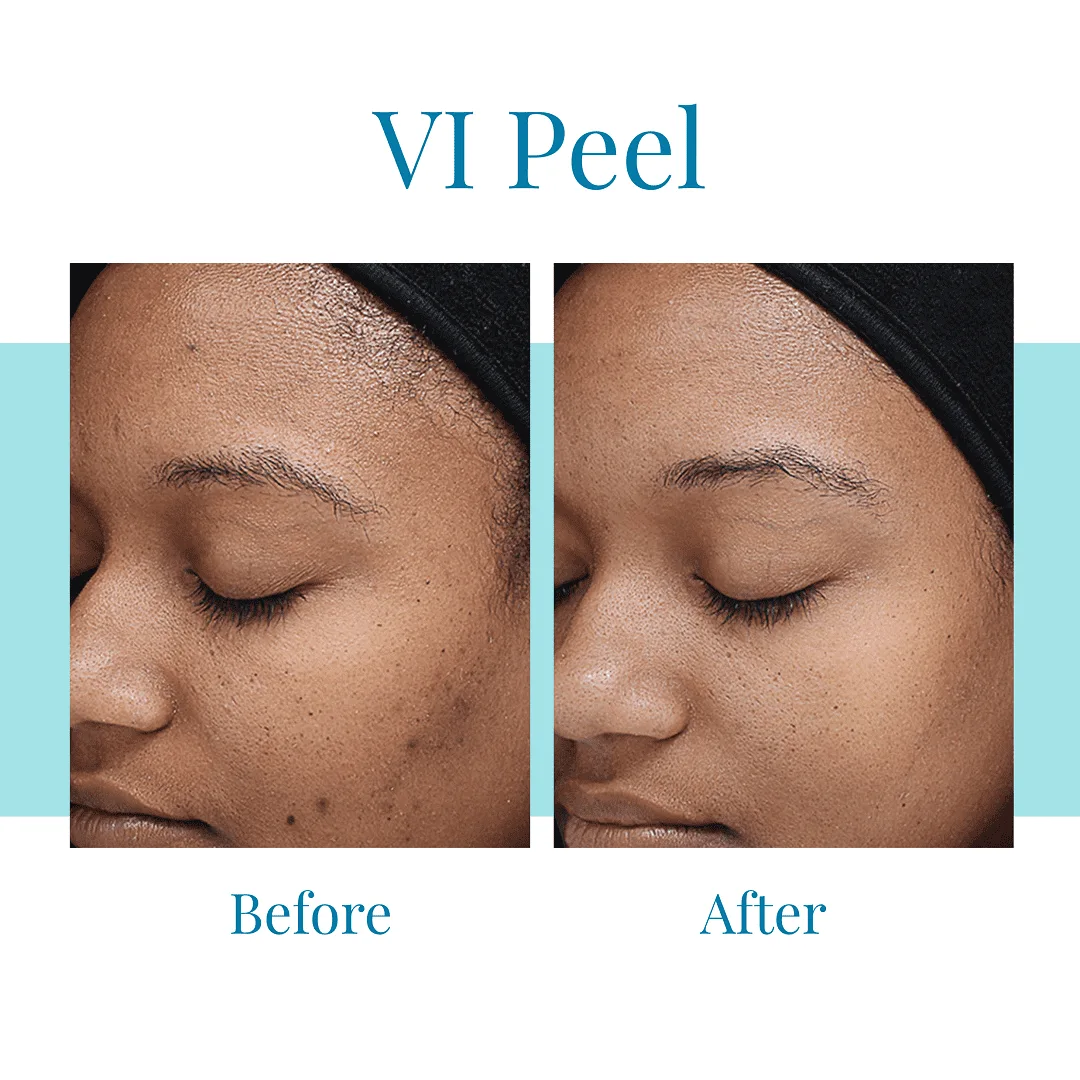 How Much Does EmpowerRF FormaV Cost?
The cost of EmpowerRF FormaV treatments at Bella typically falls in the $2,750 to $3,000 range for a package of three treatments at our Buckhead our Alpharetta locations. With that in mind, the total price can vary significantly among patients based on the extent of treatment, whether EmpowerRF FormaV is being combined with other treatment options, and other factors. The cost will also be different if other treatment options in the EmpowerRF FormaV platform are being performed. A member of our aesthetics team will provide a total price estimate once your personalized treatment plan is developed during the initial consultation.
Request Your Complimentary Consultation
How Much Does VI Peel Cost?
A single VI Peel at our Buckhead and Alpharetta locations is $350, or you can purchase a package of five VI Peels for $1,575.
*Disclaimer: This site and its content have been published for information and advertising purposes only. Results are never guaranteed and vary from patient to patient. Bella Medspa takes no responsibility for the accuracy of the content. Please contact us to book an appointment for individual diagnosis and treatment plan.