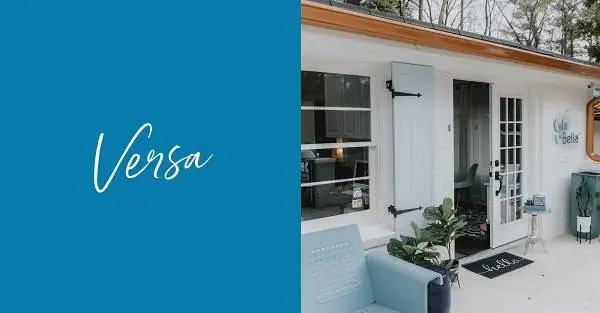 About Revanesse Versa
Versa is different from other hyaluronic acid fillers, such as Juvéderm and Restylane, in that post-injection swelling is nearly non-existent. For our Buckhead and Alpharetta Versa clients, this lack of swelling makes volume correction more precise and balanced, as our injectors don't need to account for what is skin swelling vs. what is actual dermal filler, especially when it comes to the delicate areas below the eyes.
On a molecular level, Versa has a tiny, spherical particle structure that gives it an exceptionally smooth quality, which, in turn, yields very natural looking results. What's more, Versa is manufactured with premium quality hyaluronic acid and has a higher molecular fat than other HA fillers. As a result, our Buckhead and Alpharetta Versa clients report longer-lasting results.
An important consideration for many of our Buckhead and Alpharetta clients is that Versa contains no animal products or byproducts. In addition, Versa uses a biodegradable formula that your body can break down naturally. Versa is manufactured in small batches with very stringent quality standards. Each syringe of Versa is carefully inspected in a state-of-the-art North American facility.
Benefits of Revanesse Versa
Less Swelling: In Versa clinical trials, 50% more patients treated with a comparative product experienced swelling compared to patients who were treated with Versa.
Longevity: Many of our Buckhead and Alpharetta clients find that Versa helps in the improvement of their nasolabial folds (laugh lines) for up to 12 months with optimal correction.
Designed for Safety: The Versa formula is well-studied, with more than 300 patients of multiple skin types treated in three clinical trials, with no serious adverse events reported.
More Value per Syringe: Versa comes in a 1.2 mL syringe, which is 20% more product compared to other hyaluronic acid fillers. This is a cost-effective solution if you need more filler to achieve the best possible results.
Lower Chance of Allergic Reaction: Versa is made of hyaluronic acid, which is a naturally occurring substance in your body. Compared to other filler substances, hyaluronic acid dermal fillers are less likely to trigger allergic reactions on your skin. In fact, hyaluronic acid can promote healthier collagen production.
Improvement of Your Facial Skin's Hydration: Hyaluronic acid is found naturally on your skin and is also used in a variety of skin care products. Versa helps our Buckhead and Alpharetta clients maintain healthy skin by promoting natural collagen production.
Where Can Revanesse Versa be Injected?
At Bella Medspa, we've had good success using Versa on our Buckhead and Alpharetta clients to reduce the appearance of nasolabial folds and other lines and creases around the mouth area. We are finding Versa to also be effective for other areas, including:
Defining the bridge of the nose
Filling undereye creases and removing bags and dark circles
Volumizing the cheeks
Smoothing nasolabial folds
Smoothing barcode lines above the lips
Volumizing the lips
Smoothing marionette lines
Smoothing parentheses lines
Contouring the chin and jaw
How Does Revanesse Versa Work?
Versa works by encouraging your body's production of collagen, which is the main structural protein of the body that gives your skin and lips their shape. It is the hyaluronic acid in Versa that triggers this collagen production.
When Will I See Results?
For our Buckhead and Alpharetta Versa clients, the changes are instantly visible, but it can take up to two weeks for the filler to fully settle.
How Long is the Recovery Time?
Most of our Buckhead and Alpharetta clients return to regular activities immediately following their Versa treatments. However, you should avoid strenuous activities, touching your face, and other practices that can promote bruising and other side effects.
Preparing for Your Versa Treatment at Our Buckhead or Alpharetta Office
If this is your first Versa treatment at our Buckhead or Alpharetta office, then be prepared to discuss your medical history, including questions about prior procedures, surgeries, illnesses, and medications you have taken.
Think about your desired results for your procedure and be prepared to share those with your injector.
Take photos of the area of your face that will be treated.
What to Expect During Your Revanesse Versa Treatment
Before getting your Versa injections at our Buckhead and Alpharetta office, you'll have an initial consultation to discuss your treatment. You can also discuss the appearance you want to achieve, if you are a suitable candidate for dermal fillers, and if there are any other treatments available to help you reach your goals.
If you have no existing conditions that can affect the results of your treatment, you can proceed with your Versa injection. Getting fillers is minimally invasive and can take less than an hour.
First, we'll apply a topical numbing cream to the injection sites. This will reduce the pain and discomfort of the injection procedure. Next, we will administer enough of the filler gel into the treatment sites. For wrinkles and folds, this filler will fill in the creases and smooth your appearance by increasing volume around the area.
For our Buckhead and Alpharetta Versa clients, the changes are instantly visible, but it can take up to two weeks for the filler to fully settle. You'll need little to no downtime to recover from your treatment. However, you should avoid strenuous activities, touching your face, and other practices that can promote bruising and other side effects.
Aftercare and Possible Side Effects
A clean cloth dipped in cold water (cold compresses) may be applied to the injected area immediately after treatment to reduce swelling.
Avoid touching the treated area within six hours following treatment so you do not accidentally injure your skin while the area is numb. After that, the area can be gently washed with soap and water.
Avoid taking aspirin, NSAID, St. John's Wort, blood thinners, and high doses of Vitamin E supplements for one week after treatment. These agents may increase bruising and bleeding at the injection site.
Minimize strenuous exercise and exposure to excessive heat, sun, or UV lamps for the first 24 hours after treatment. Exposure to any of these may cause temporary redness, swelling, and/or itching at the injection site. Until there is no redness or swelling, avoid exposure of the treated area to intense cold or heat such as sun lamps or sunbathing.
Whenever a dermal filler – including Versa – is injected into the skin, there could be side effects, including the risk of infection. This infection could appear as small, swollen, or red bumps – called inflammatory papules. These infections are rare. However, if you see any of these signs or symptoms, talk to your doctor.
Request Your Complimentary Consultation
How Much Does Revanesse Versa Cost?
The cost of Versa is $xx per unit. The size of the area being treated is a vital factor in determining the total of Xeomin. Treating a small area can take 30 units of Xeomin and cost $300, while a larger area can require 50 units of Xeomin and cost $500.
*Disclaimer: This site and its content have been published for information and advertising purposes only. Results are never guaranteed and vary from patient to patient. Bella Medspa takes no responsibility for the accuracy of the content. Please contact us to book an appointment for individual diagnosis and treatment plan.