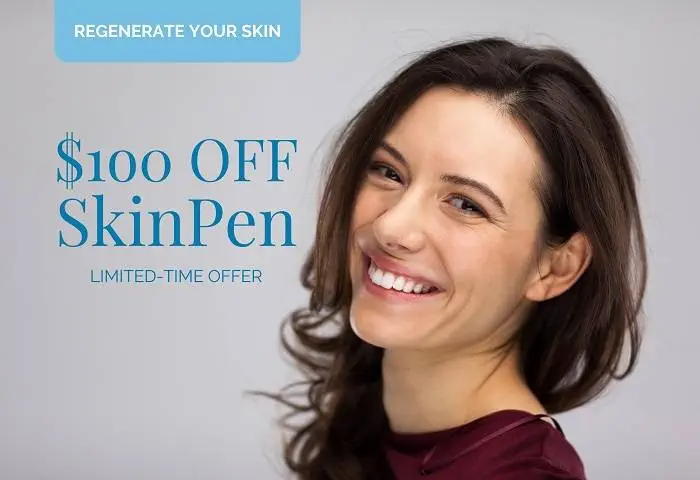 Treats
Fine lines
Moderate-to-severe wrinkles
Deep folds
Face and body scars
Results
Improved fine lines and wrinkles
Firmed skin laxity around the eyelids or mouth)
Diminished acne, scars, and stretch marks
Diminished age spots, sun damage, melasma, and hyperpigmentation
Reduced pore size
Virtual and in-person consultations complimentary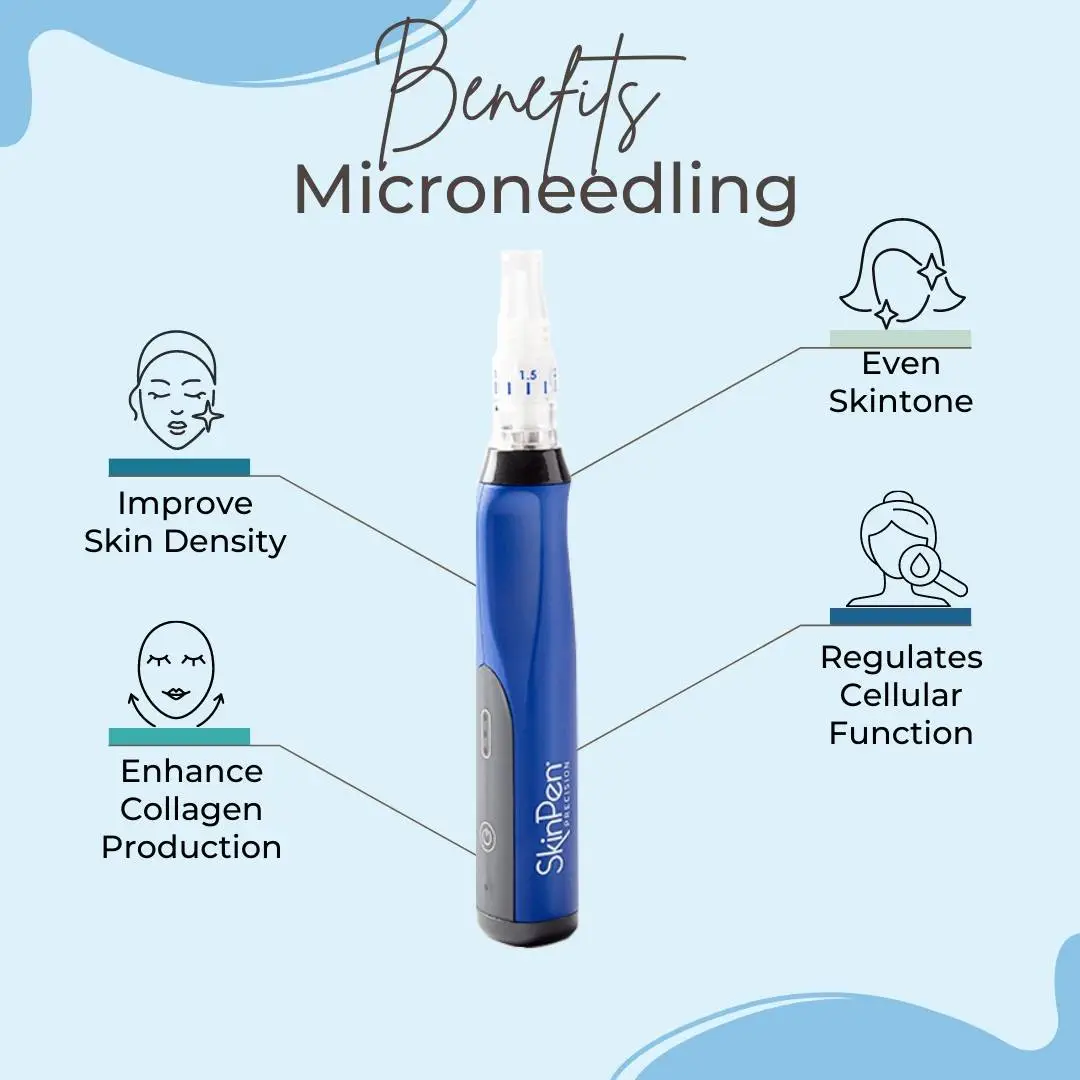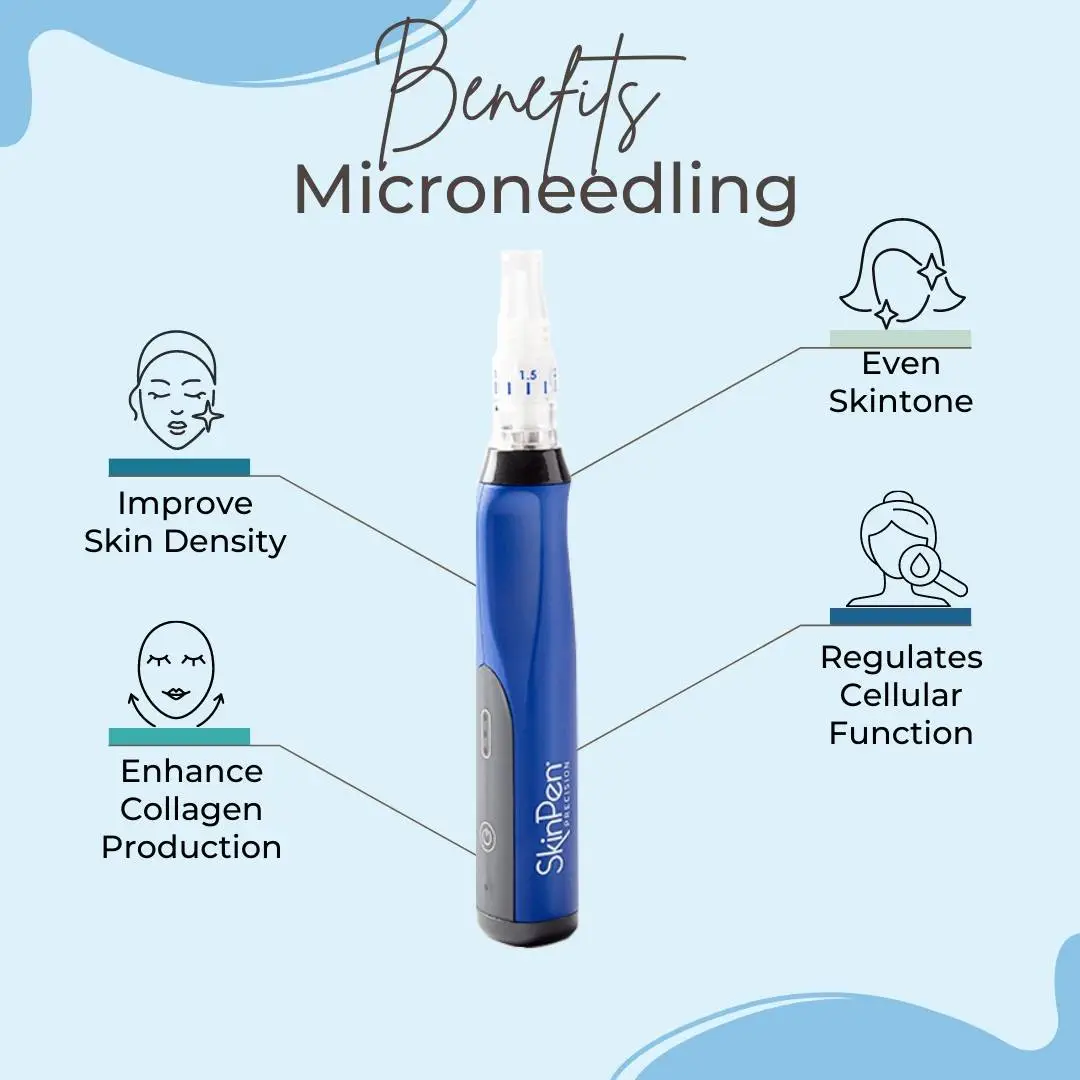 Treats
Fine lines
Moderate-to-severe wrinkles
Deep folds
Face and body scars
Results
Improved fine lines and wrinkles
Firmed skin laxity around the eyelids or mouth)
Diminished acne, scars, and stretch marks
Diminished age spots, sun damage, melasma, and hyperpigmentation
Reduced pore size
Virtual and in-person consultations complimentary
Limited-Time Offer: $100 Off Your SkinPen Treatment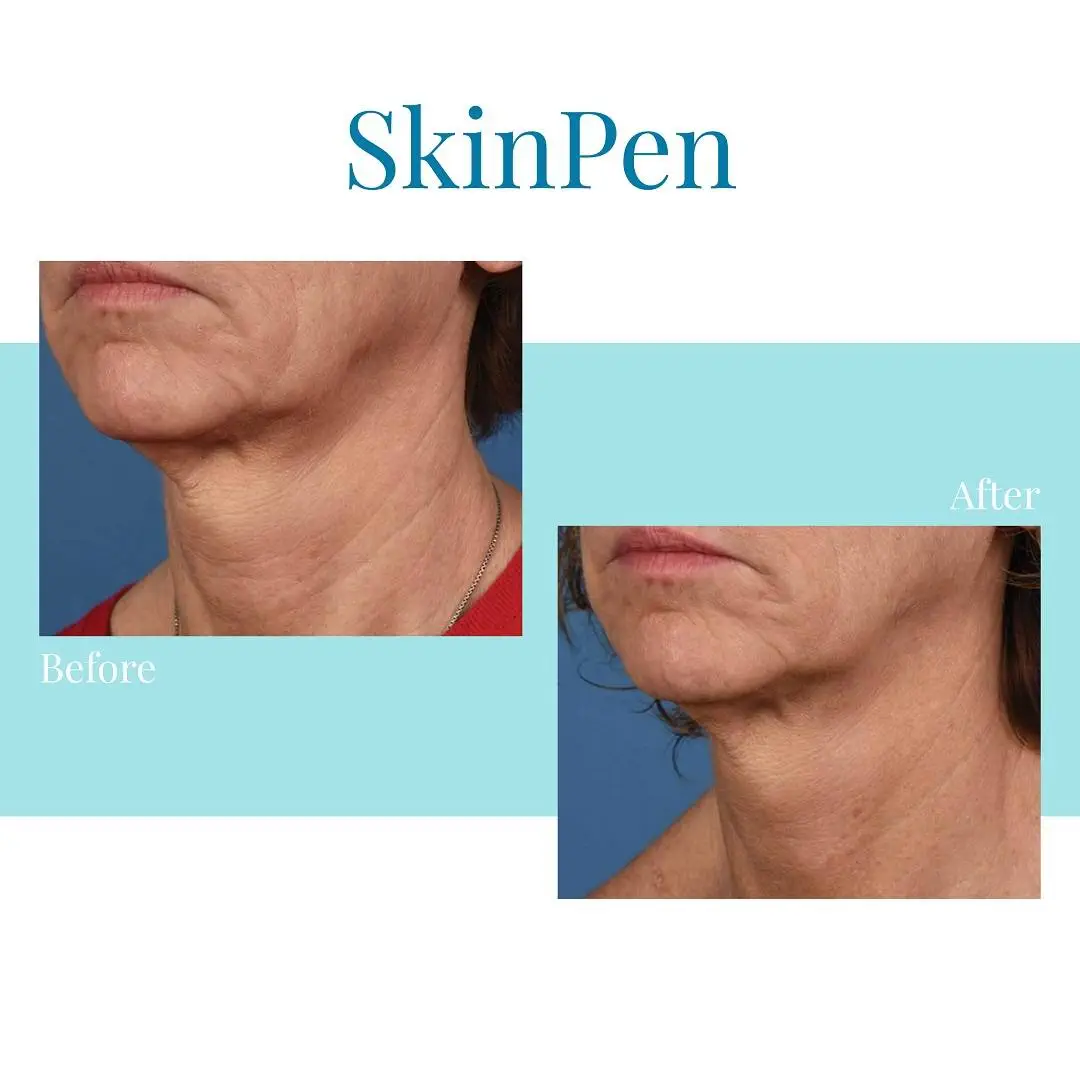 About SkinPen
SkinPen is the first and only Class II microneedling medical device on the market that has been studied, cleared, and approved by the FDA for treatment of adult facial acne scars. For our Buckhead and Alpharetta clients, we also use SkinPen to improve overall skin tone and skin texture, and to reduce fine lines and discoloration. For some our Buckhead and Alpharetta clients, SkinPen has even shown some benefits in reducing stretch marks. In a clinical study, 90% of women and men said they would recommend SkinPen.
How Does SkinPen Work?
SkinPen creates hundreds to thousands of "micro" skin punctures per second to stimulate the skin's natural wound healing process – inflammation, proliferation, and remodeling – to prompt tissue remodeling without causing scar tissue formation. Most of our Buckhead and Alpharetta SkinPen clients return to normal activities within 24 hours.
Will It Work for Me?
Unlike some alternatives, SkinPen has been clinically proven to be effective for women and men with all Fitzpatrick Skin Types I-VI. Likewise, unlike lasers or chemical peels that can damage skin over the long term, SkinPen treatments, when properly spaced and overseen by a trained professional, can be used for years.
However, if you have any of the following conditions, then you are not a candidate for SkinPen:
Active skin cancer in the treatment area(s)
Open wounds, sores, or irritated skin in the treatment area(s)
An allergy to stainless steel or anesthetics
A hemorrhagic (bleeding) disorder or hemostatic (bleeding) dysfunction
Are pregnant or nursing
Are currently taking drugs with the ingredient isotretinoin (such as Accutane).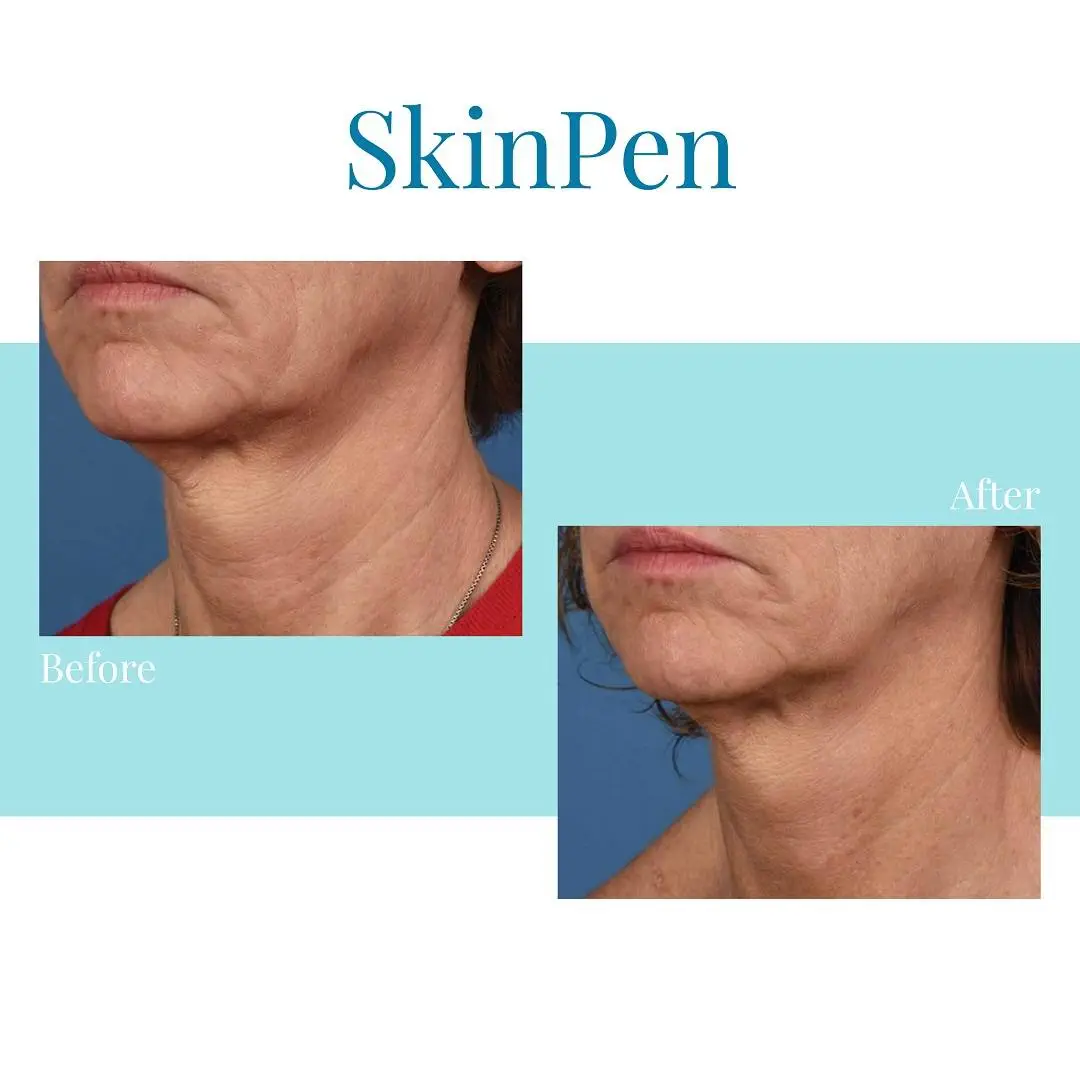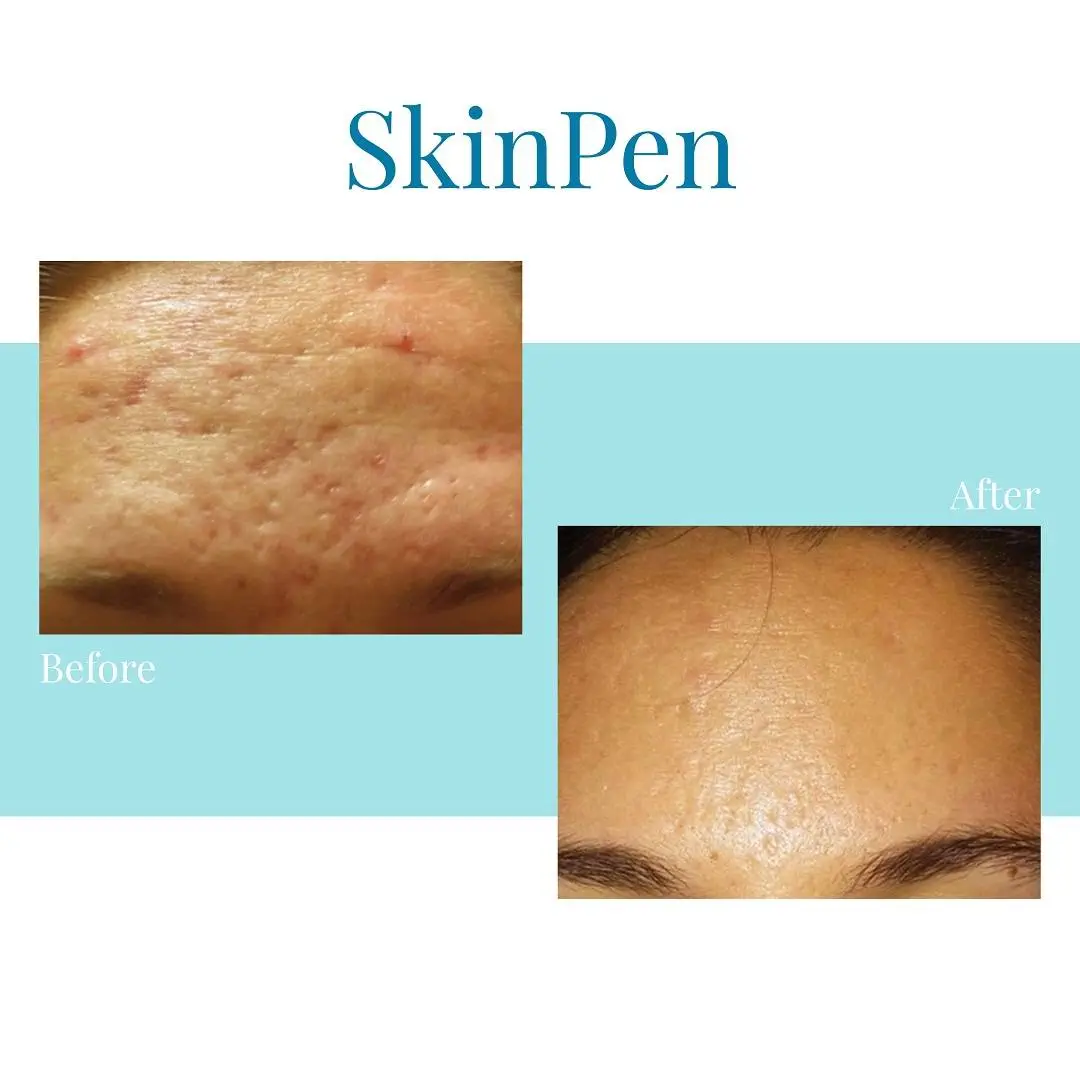 Why Choose SkinPen for Microneedling?
SkinPen rejuvenates from the inside out for younger looking skin.
SkinPen is the first FDA-cleared microneedling device.
SkinPen is proven safe and effective, delivering results that last up to six months.
SkinPen is a quick-and-easy treatment with little to no downtime for our Buckhead and Alpharetta clients.
SkinPen is proven to improve the appearance of acne scars and wrinkles on the neck.
SkinPen's 3-Step Process
Inflammation: SkinPen's microneedles pierce the skin, triggering your immune system to disinfect the wounds, remove debris, increase blood flow, and begin to create new tissue.
Proliferation: The micro-wounds created by SkinPen are rebuilt with new granulation cells that include collagen proteins. Additionally, a new network of blood vessels develops.
Remodeling: The wound is replaced with new dermal tissues and blood vessels that are comprised of rich collagen and elastin proteins. These proteins improve skin youthfulness.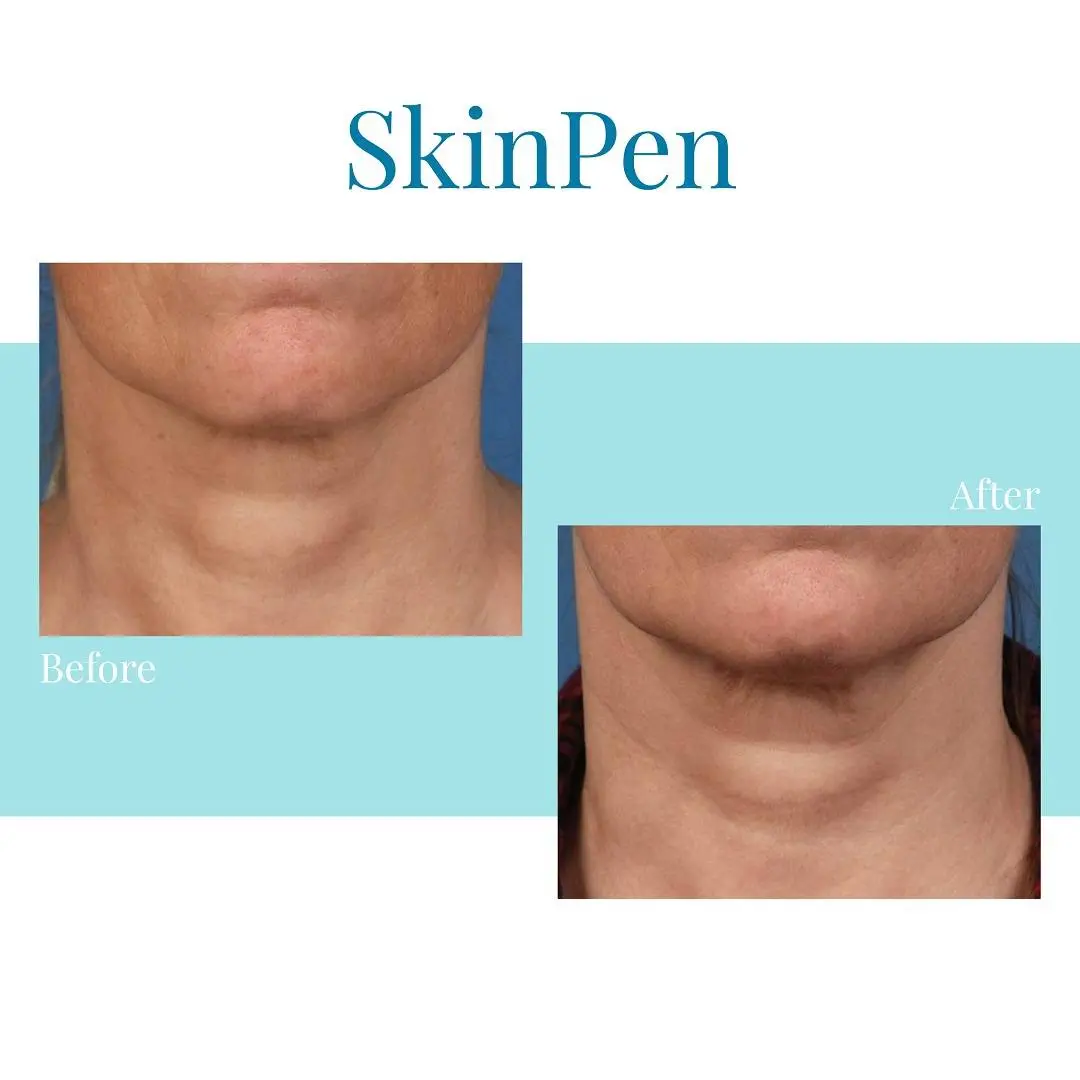 SkinPen for Facial Acne Scars
For many of our Buckhead and Alpharetta SkinPen clients, acne scars tell the story of a challenging time in the life of their skin – usually the result of blemishes that became inflamed. Sometimes pores are damaged deep within the skin, which can lead to lesions. When your skin attempts to repair itself, it may result in raised tissue and uneven texture on the surface. Other times, there is a loss of tissue, which leaves skin's surface rough and uneven.
If you are dealing with facial acne scars, you're not alone. According to The Journal of Clinical and Aesthetic Dermatology, 80% of people ages 11 to 30 have acne problems and scarring. Many of our Buckhead and Alpharetta SkinPen clients tell us that seeing acne scars every time they look in the mirror leaves them feeling less confident. If you feel this way, too, there is something you can do about it. SkinPen can improve the look of facial acne scars for smooth, healthy skin that glows from within.
SkinPen for Neck Wrinkles
The skin on your neck is different from the skin on your face. This delicate area has less fatty tissue and collagen, along with fewer oil glands, making it more prone to wrinkles, crepey texture, and a slackened appearance. That's why the first signs of aging for many of our Buckhead and Alpharetta SkinPen clients often appear on the neck.
But there are also other culprits behind neck wrinkles, such as "Tech Neck." The frequent, repetitive motion of looking down at devices, such as your phone, can increase and accelerate the look of horizontal neck wrinkles, lines, and creases.
Whether they're caused by age or technology, neck wrinkles can leave you feeling less confident. Instead of covering up, SkinPen can improve the look of neck wrinkles for our Buckhead and Alpharetta clients to uncover firm, radiant, and younger-looking skin.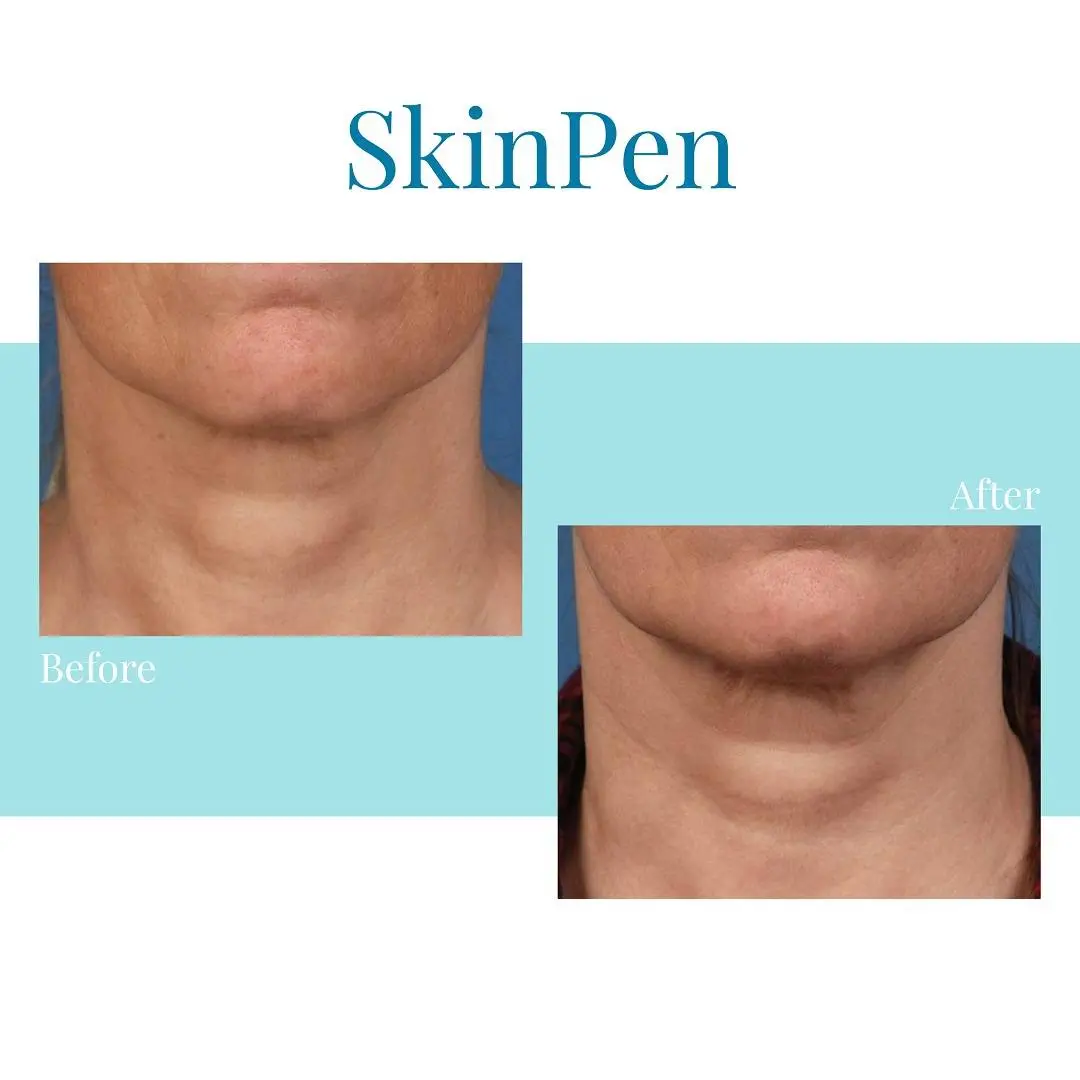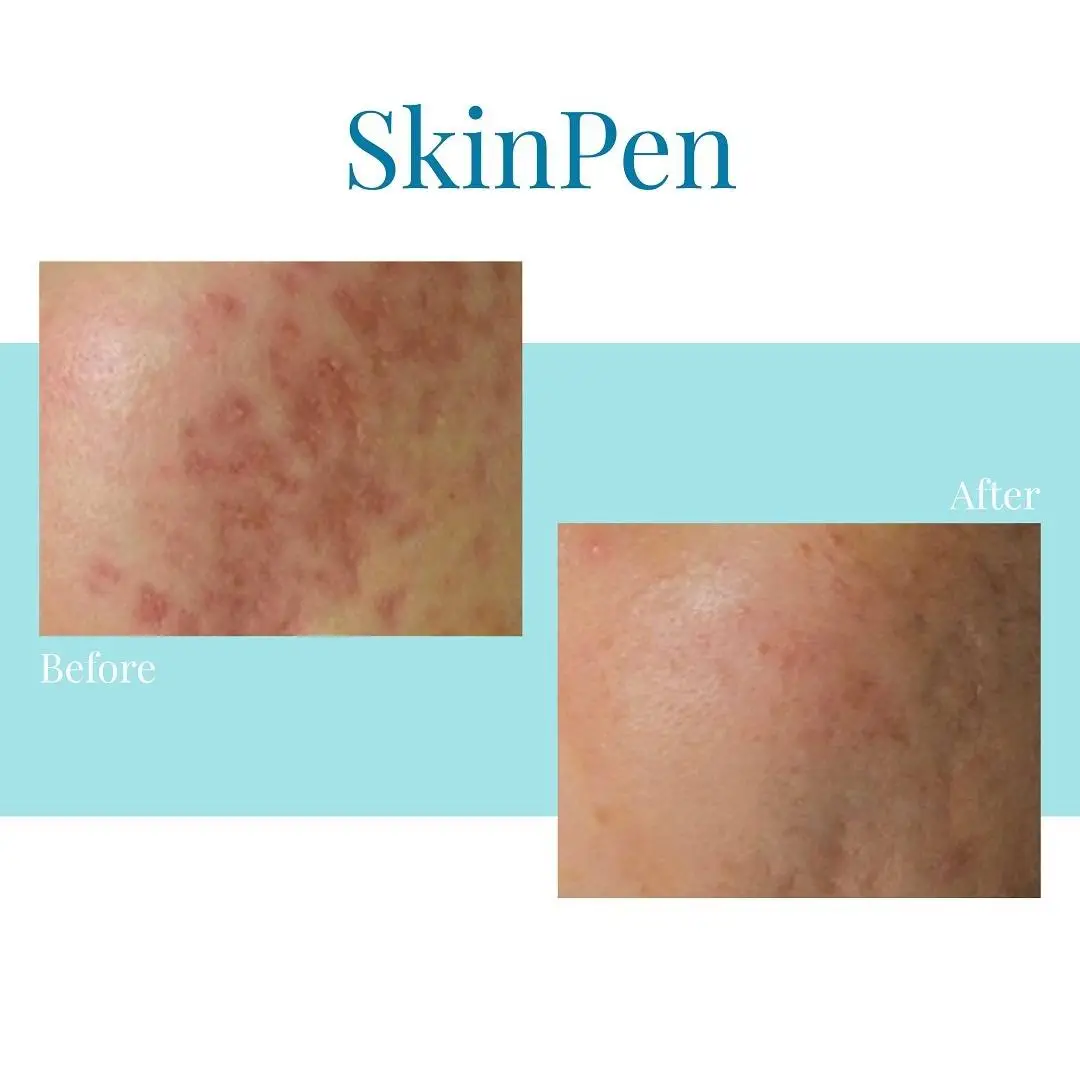 Preparing for Your SkinPen Treatment at Our Buckhead or Alpharetta Office
Here are basic instructions to help you prepare for your SkinPen treatment at our Buckhead or Alpharetta office.
6 Months Prior: Accutane or isotretinoin use must be discontinued for at least six months before your SkinPen procedure, as isotretinoin use may impair wound healing and increase risk of scar tissue formation.
7 Days Prior: One week before your treatment, stop taking aspirin, Advil, Motrin, Aleve, and non-steroidal anti-inflammatory medication, as these drugs may inhibit the natural inflammatory response of your stem cells.
3 Days Prior: Avoid excessive alcohol, caffeine, and cigarettes three days before to your treatment, as these may increase your risk of bruising.
2 Days Prior: Do not apply spray tanning or self-tanning lotions for 48 hours prior to your SkinPen procedure.
1 Day Prior: Discontinue the use of topical products containing Retinol or Vitamin A for 24 hours prior to your SkinPen procedure.
If you are prone to herpes simplex infections, such as cold sores, ask your physician prior to your procedure whether prophylaxis therapy is appropriate for you. In addition, this procedure may not be performed on active breakouts or open lesions.
If you have been overexposed to the sun (sunburn) or develop a cold sore, blemish, or rash in the area to be treated, then please call our Buckhead or Alpharetta office to reschedule your SkinPen appointment. In addition, if you have a special event or vacation coming up, we recommend that you schedule your treatment at least three weeks in advance.
If you are on autoimmune therapy or systemic corticosteroids (steroids), consult your physician for approval to discontinue use of medications prior to your SkinPen procedure.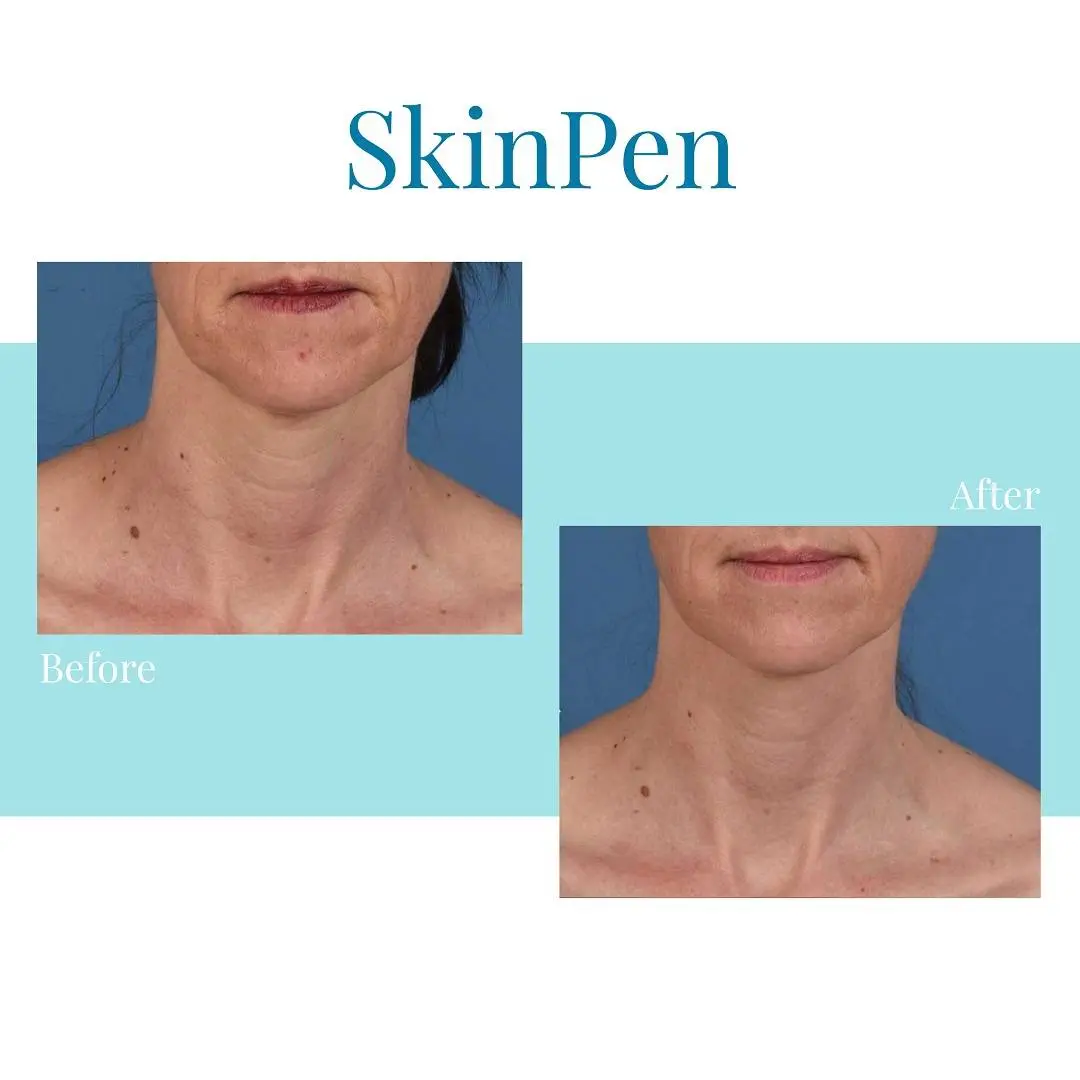 What to Expect During Your SkinPen Treatment
For most of our Buckhead and Alpharetta clients, the entire SkinPen treatment typically takes 30 minutes to complete, but this time may vary based on your specific needs. It's all done in a matter of a few simple steps.
Your Bella Medspa aesthetician will gently cleanse your skin.
If you opt for it, a topical anesthesia will be applied to minimize discomfort.
Lift hydrogel will be applied to your face, to help SkinPen glide smoothly across your skin.
SkinPen will create millions of controlled microchannels to target natural collagen and promote your body's natural healing process.
After your treatment you may notice some redness or inflammation, which is totally normal and should subside within 24 hours to 72 hours.
Treating facial acne scars is simple. First, your face is cleansed and gently massaged. Second, topical anesthesia may be applied to keep you comfortable. Third, once your skin is ready, lift hydrogel is applied to the treatment area.
For most of our Buckhead and Alpharetta SkinPen clients, facial acne scars are visibly reduced in as few as three sessions spaced 30 days apart. Although we will determine your personal treatment schedule based on your unique needs, most clients see improvement in their skin in the first month after their first treatment. In clinical trials, skin has been shown to improve for up to six months after a SkinPen treatment.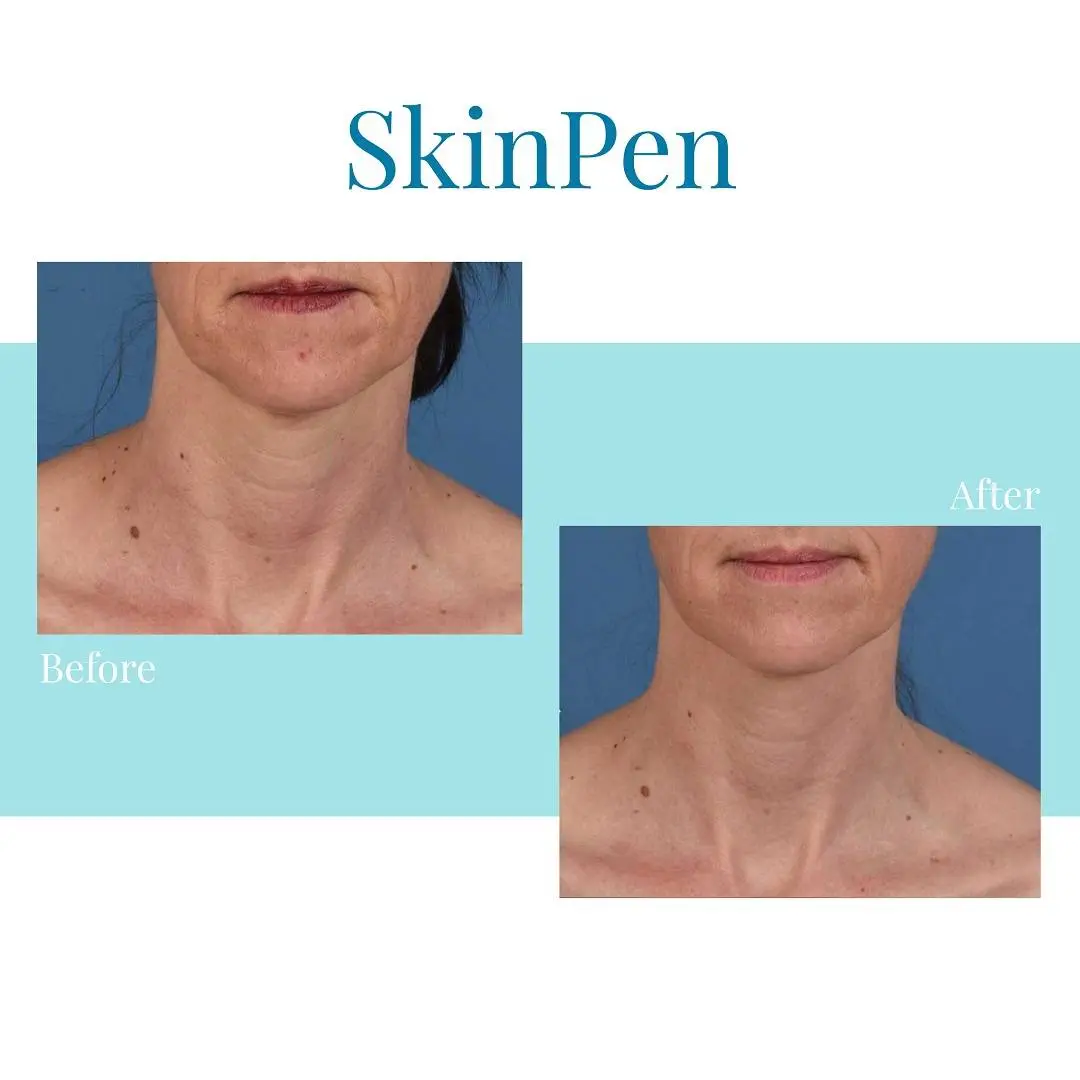 Request Your Complimentary Consultation and Receive $100 Off Your SkinPen Treatment
Recovery and Post-Treatment Care
Do not touch, press, rub, or manipulate the treated area for at least four hours after your SkinPen treatment at our Buckhead or Alpharetta office.
The evening of your treatment (four-hours post procedure), you may gently cleanse your face with water.
Avoid strenuous exercise, excessive perspiration and sun exposure for 72 hours post procedure as excess blood flow and sweat can cause discomfort and irritation to compromised skin.
Avoid the use of any topical products not provided by your Bella Medspa skin care professional for specific use with this procedure for the first 24 hours. This includes, but is not limited to, cosmetics, cleansers, sunscreens, and moisturizers.
Strictly avoid sun exposure the remainder of the day as you will not be wearing sunscreen. You may return to using a physical sunscreen and makeup after 24 hours. Continue to minimize sun exposure for one week following the procedure.
After your initial series of treatments, we recommend a maintenance treatment every six months as needed.
It is normal to experience bruising, redness, itching, soreness and swelling that may last from three to 10 days following your procedure.
*Disclaimer: This site and its content have been published for information and advertising purposes only. Results are never guaranteed and vary from patient to patient. Bella Medspa takes no responsibility for the accuracy of the content. Please contact us to book an appointment for individual diagnosis and treatment plan.