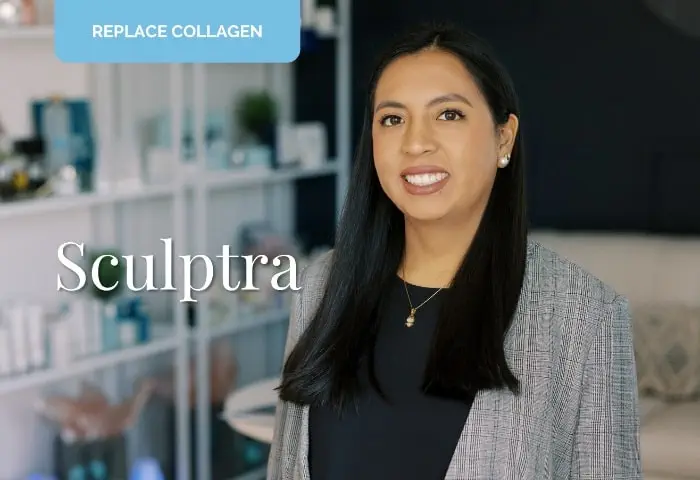 About Sculptra
Sculptra is the first biocompatible, non-animal derived dermal filler that can treat deep facial wrinkles and folds, restore lost volume in certain areas, and improve the appearance of a sunken contour in the face. Sculptra is used in our Buckhead and Alpharetta offices to correct age-related volume loss, which occurs as skin loses not only its elasticity, but also its natural ability to create new collagen. Sculptra can also correct moderate to severe facial wrinkles and folds, such as the lines from your nose to the corners of your mouth – called nasolabial folds.
Sculptra is made up of poly-L-lactic acid, a biocompatible material that stimulates your body to produce more collagen and help repair the skin. It works over time, causing a gradual replacement of lost facial volume and adding firmness and elasticity to the skin.
While Sculptra is similar to hyaluronic acid gel dermal fillers such as such as Restylane and Juvéderm Voluma, Sculptra works differently. While other dermal fillers physically replenish volume loss with a gel that holds shape within the skin, Sculptra acts instead as a collagen stimulator, with results appearing over the course of a few months.
Benefits of Sculptra
Sculptra is FDA-approved for treating facial wrinkles and folds, adding volume to cheeks and lips, and correcting age-related thinning of the skin. For our Buckhead and Alpharetta clients, we use Sculptra to address the following concerns:
Wrinkles: From horizontal forehead lines to parentheses around the mouth (marionette lines), Sculptra can help lift and smooth deep creases that develop with age. The more lines and creases you have, the better the results.
Volume: For patients with thin cheeks, Sculptra can boost your face's structure and provide ample volume, so you look younger overall.
Weak Skin: If your face is especially weak and sagging, Sculptra can help rebuild the underlying muscle structure of your face for a smoother, more youthful appearance. This also helps with your neck.
Facial Scars: If you have scars on the lower half of your face, Sculptra may be able to camouflage them. The most common are acne scars and chickenpox scars.
Sculptra also provides natural-looking and long-lasting results, is a more affordable alternative to other dermal fillers, and can be used on deeper wrinkles and folds than other dermal fillers are able to treat.
How Does Sculptra Work?
To understand how Sculptra works, it's important to understand what exactly collagen is and why it's so important. Collagen is a fibrous protein found in the layer of our skin called the dermis. This layer sits just below the outer layer of the skin and is the true living layer. Here you will find the proteins collagen and elastin.
While elastin is responsible for the elasticity and bounce-back effect of the skin, collagen is the fiber responsible for the structure and support of the dermis. Over time and as the result of external factors, such as UV damage, collagen starts to break down. As we age, we also produce less collagen fibers. This results in the look of what we call aging skin – or wrinkles, fine lines, and sagging.
Sculptra counteracts aging skin by injecting tiny amounts of poly-L-lactic acid into the dermis, which stimulates the cells in the dermis to produce more collagen fibers. This new collagen helps restore volume to the face that is lost over time because of aging or body contouring. By restoring lost tissue, Sculptra helps smooth moderate to severe facial wrinkles and folds, such as those found in the nasolabial folds, or the lines from the nose to the corners of the lips.
When Will I See Results?
Many of our Buckhead and Alpharetta Sculptra clients require three treatment sessions to achieve their desired results. These treatment sessions are typically spaced two to four weeks apart. The number of treatment sessions you will need depends on the condition of your skin and your overall appearance goals.
If Sculptra is being used primarily to correct skin health and tone, then you will only require one or two treatments at our Buckhead or Alpharetta office. If you have anti-aging concerns, then you will require the full three sessions. You and your injector will determine the ideal amount of treatment sessions you will need.
The results of this treatment are quite unlike any other results from similar dermal fillers. For one thing, these results have a gradual and subtle buildup over time that leads to natural-looking results, which includes plumper, hydrated, radiant skin free of the most visible signs of aging.
Although the results of this treatment appear gradually over the course of several months, most of our Buckhead and Alpharetta Sculptra clients see their desired results within as little as three to four months from the time of their first treatment session. It takes this long for results to gradually build because of the nature of the special formula used for treatment, which progressively improves the production of collagen within the skin's sub-dermal layers.
While most dermal fillers last 12 to 18 months, the results of Sculptra can last for as long as three years. These impressively long-lasting results can be attributed to the way the special lactic acid formula interacts with the skin. While this formula initially heightens the level of collagen produced in the sub-dermal layers of skin, it also lingers for a longer time than other fillers, which is what keeps collagen production high for such a long time.
How Long is the Recovery Time?
After your Sculptra treatment at our Buckhead or Alpharetta location, you are free to return to most of your normal daily activities, such as running errands or going to work. You will be allowed to use make-up and skin care products on the same day of your treatment.
You can expect some swelling or redness at the injection sites, which are temporary side effects that resolve themselves within hours after treatment. Sculptra is considered a zero-downtime treatment.
Preparing for Your Sculptra Treatment at Our Buckhead or Alpharetta Office
If this is your first Sculptra treatment at our Buckhead or Alpharetta office, then be prepared to discuss your medical history, including questions about prior procedures, treatments, surgeries, illnesses, and medications you have taken.
Think about your desired results for your treatment and be prepared to share those with your injector. In addition, take photos of the area to be treated, so that you can track your results.
Before your Sculptra treatment appointment at our Buckhead or Alpharetta office:
Avoid taking aspirin or other similar pain relievers three to seven days before treatment
Avoid taking certain supplements, such as Vitamin E and others, three to seven days before treatment
Avoid using certain products, such as retinol, three to seven days before treatment
Injections
Following these guidelines will ensure a successful Sculptra treatment at our Buckhead or Alpharetta location.
What to Expect During Your Sculptra Treatment
During your Sculptra injection at our Buckhead or Alpharetta office:
Your skin will be cleansed prior to treatment.
A cream or ointment called a topical anesthetic will be used to numb the area where your injection will be received your injection.
Your injector will begin the treatment by giving you the first injection, then pausing to allow the anesthetic that is part of Sculptra to continue to numb the area around your injection. The anesthetic part of Sculptra has been shown to significantly reduce the pain and discomfort that may occur with an injection.
Your Buckhead or Alpharetta injector will continue the injection of Sculptra until the area being treated shows the desired results.
Your Sculptra treatment appointment at our Buckhead or Alpharetta location will take 30 to 45 minutes to complete.
Aftercare and Possible Side Effects
There aren't too many restrictions you will need to adhere to following your Sculptra injection at our Buckhead or Alpharetta office. However, you must take care to prevent sunburn for the first 14 days after your injections. As such, you should avoid excess sun exposure immediately following your injections and wear sunscreen, a hat, and sunglasses to protect your skin and your treatment area. Keeping your lips hydrated and moisturized after your treatment can help enhance your results and keep your skin healthy.
You should also avoid strenuous workouts for 24 hours after your initial treatment. Also, to ensure the best results, you should avoid situations that increase your body temperature, such as hot tubs, saunas, steam rooms, and even hot weather.
Side effects are rare, and most are mild or moderate in nature, with a short duration of seven days or less. The most common side effects reported by our Buckhead and Alpharetta Sculptra clients include temporary injection site redness, pain or tenderness, firmness, swelling, lumps and bumps, bruising, itching, and discoloration.
*Disclaimer: This site and its content have been published for information and advertising purposes only. Results are never guaranteed and vary from patient to patient. Bella Medspa takes no responsibility for the accuracy of the content. Please contact us to book an appointment for individual diagnosis and treatment plan.