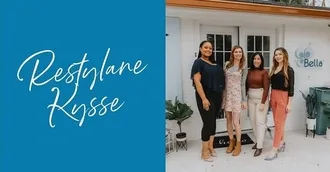 Restylane Kysse Buckhead and Alpharetta
Do you want to give your lips a boost, but you've hesitated to get lip injections because you want your lips to look natural? Now you can have bigger lips and love them, too, with Restylane Kysse.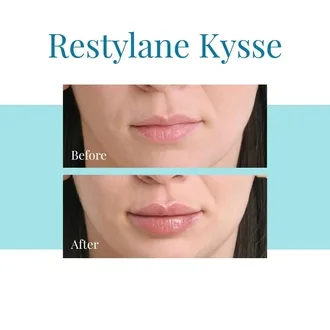 About Restylane Kysse
Unlike other Restylane products, Restylane Kysse is solely designed to be used in the lips and lip lines. Every component of the injection aids in creating pillowy, softer lips, which is what makes Restylane Kysse unique from the rest of the Restylane dermal filler family. For our Buckhead and Alpharetta clients, we use Restylane Kysse not only to create fuller lips, but also to erase those pesky radial wrinkles around the lips.
So, what exactly is Restylane Kysse? Good question. Restylane Kysse is a clear injectable gel composed of hyaluronic acid, which is a naturally occurring sugar found in the human body. In addition, our Buckhead and Alpharetta clients appreciate that Restylane Kysse contains 0.3% lidocaine to reduce pain during injection.
Benefits of Restylane Kysse
Restylane Kysse's unique structure lets you create fuller lips that feel natural and soft. We can also use Kysse to smooth out the fine lines around your lips, known as the perioral lines. What's more, Restylane Kysse can provide:
Fuller lips,
More shapely lips,
Improved lip symmetry,
Enhanced lip texture, and
Longer-lasting results.
Another advantage of Kysse is that you need almost 20% less product than other fillers to achieve comparable results, which allows our Buckhead and Alpharetta clients to save money.
What's more, while other lip fillers last six to nine months, Restylane Kysse lasts 12 months and more because the hyaluronic acid in the filler is crosslinked with an ingredient called BDDE. Together, these two ingredients work to provide a gel filler that lasts longer, which has been validated by clinical research; various Restylane Kysse studies have reported that:
77% of subjects had at least a one-point improvement in lip fullness six months after treatment.
60% of subjects had at least a one-point improvement in lip fullness 12 months after treatment.
88% of subjects said they had an improvement in the appearance of their lips six months after treatment.
78% of subjects said they had an improvement in the appearance of their lips 12 months after treatment.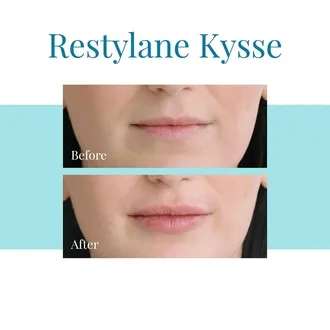 How Does Restylane Kysse Work?
Restylane Kysse works by encouraging your body's production of collagen, which is the main structural protein of the body that gives your skin and lips their shape. It is the hyaluronic acid in Restylane Kysse that triggers this collagen production.
However, Restylane Kysse goes beyond simple collagen production, thanks to a proprietary technology called XpresHAn (pronounced Expression), which fills in facial folds seamlessly with better integration with surrounding tissues. Thanks to the hyaluronic acid and XpresHAn Technology on which Restylane Kysse is based, our Buckhead and Alpharetta clients lose none of their expressiveness, all while adding volume to their lips and smoothing the wrinkles above their mouths.
Unlike other lip fillers, Restylane Kysse is light and feels more natural, which leaves the lips of our Buckhead and Alpharetta clients looking and feeling amazing.
When Will I See Results?
You see the results of your Restylane Kysse injections as soon as your treatment at our Buckhead or Alpharetta office is over.
How Long is the Recovery Time?
Most of our Buckhead and Alpharetta clients return to regular activities immediately following their Restylane Kysse treatments. Any mild swelling that occurs should not be overly noticeable. Sometimes a bruise occurs because of the needle's contact with the skin. Our staff provides options after your procedure, including topical treatments, to minimize bruising.
Preparing for Your Restylane Kysse Treatment at Our Buckhead or Alpharetta Office
If this is your first Restylane Kysse treatment at our Buckhead or Alpharetta office, then be prepared to discuss your medical history, including questions about prior procedures, surgeries, illnesses, and medications you have taken.
Think about your desired results for your procedure and be prepared to share those with your injector.
Take photos of the area of your face that will be treated.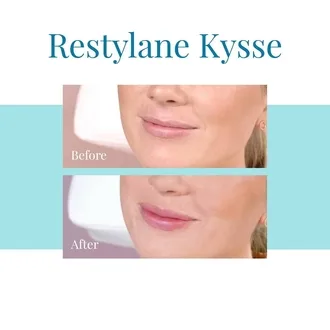 What to Expect During Your Restylane Kysse Treatment
During your Restylane Kysse procedure at our Buckhead or Alpharetta office:
Your skin will be cleansed prior to treatment.
A cream or ointment called a topical anesthetic will be used to numb the area where your injection will be received your injection.
Your injector will begin the procedure by giving you the first injection, then pausing to allow the anesthetic that is part of Restylane Kysse to continue to numb the area around your injection. The anesthetic part of Restylane Kysse has been shown to significantly reduce the pain and discomfort that may occur with a dermal filler gel injection.
Your injector will continue the injection of Restylane Kysse until the area being treated shows the desired results.
After the injection is completed, your injector may gently massage the area that was treated to ensure the dermal filler gel is distributed evenly and looks natural.
Request Your Complimentary Consultation
Aftercare and Possible Side Effects
A clean cloth dipped in cold water (cold compresses) may be applied to the injected area immediately after treatment to reduce swelling.
Avoid touching the treated area within six hours following treatment so you do not accidentally injure your skin while the area is numb. After that, the area can be gently washed with soap and water.
Avoid taking aspirin, NSAID, St. John's Wort, blood thinners, and high doses of Vitamin E supplements for one week after treatment. These agents may increase bruising and bleeding at the injection site.
Minimize strenuous exercise and exposure to excessive heat, sun, or UV lamps for the first 24 hours after treatment. Exposure to any of these may cause temporary redness, swelling, and/or itching at the injection site. Until there is no redness or swelling, avoid exposure of the treated area to intense cold or heat such as sun lamps or sunbathing.
Whenever a dermal filler – including Restylane Kysse – is injected into the skin, there could be side effects, including the risk of infection. This infection could appear as small, swollen, or red bumps – called inflammatory papules. These infections are rare. However, if you see any of these signs or symptoms, talk to your doctor.
How Much Does Restylane Kysse Cost?
The cost of Restylane Kysse is based on the area being treated. Most treatments range from $500 to $800. Schedule a consultation to see what Restylane Kysse can do for you and get exact pricing.
*Disclaimer: This site and its content have been published for information and advertising purposes only. Results are never guaranteed and vary from patient to patient. Bella Medspa takes no responsibility for the accuracy of the content. Please contact us to book an appointment for individual diagnosis and treatment plan.