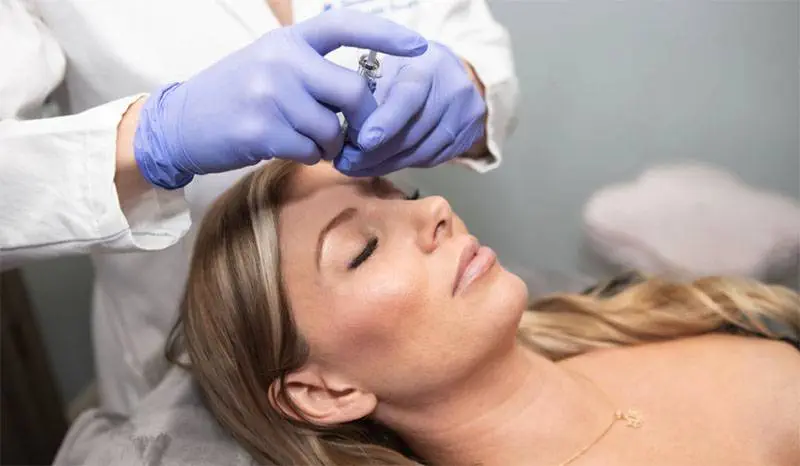 PRP is the newest buzz when it comes to anti-aging technology. I'm so happy to let you all know that PRP treatments are now available at both Bella locations. I love how easy it is to receive the treatment and the recovery process is pretty quick, too! But even better, the benefits continue working on our tissue for 2 to 5 years post-procedure, which is pretty unheard of for any injectable on the market.
I wanted to take a moment to explain what PRP is actually all about in case you're feeling a bit confused about how it actually works.
How does PRP work?
PRP stimulates your body's reparative capabilities by gently injecting your own platelet-rich plasma into your skin. It's similar to face fillers because it lifts and firms the skin while also building collagen. Around the time we turn 30 years old, our bodies stop producing collagen naturally, so PRP is a wonderful way to help our bodies out a little bit and ward off aging.
PRP works like magic and can improve SO many issues – it's my new anti-aging bestie! However, the process is actually a lot more complicated than it sounds and should be done by a professional only. At Bella, you'll be in great hands!
How is PRP applied?
PRP can be applied to the skin through injections or through micro-needling. The process enables collagen growth and results in total facial rejuvenation!  The results speak for themselves!
Kim Kardashian's Vampire Facial?
In 2013, Kim Kardashian posted videos and photos of her Vampire Facial (or Blood Facial) using PRP. It went viral on Instagram and if you saw that post, you probably know how cringe-worthy it was! She has blood all over her face and even though she's smiling, she looks swollen and in a lot of pain, which is in no way the reality of PRP!
Right after she posted her treatment, I immediately began to receive a ton of emails and phone calls from clients and friends asking me about the infamous Vampire Facial.  But, of course, no one was actually brave enough to do it since it looks really scary and painful!
Does PRP really work?
In short – YES! PRP has improved so much over the last few years and it definitely doesn't look like it did on Kim Kardashian's post. It's been used in the medical industry for many years already and is even used by veterinarians!
You may already know that I'm an equestrian and have horses at my farm. Not too long ago, one of my sport horses was injured and received PRP injections in her front right hoof. The process required blood to be drawn from a major vessel in her neck and then injected into her injured hoof. It wasn't a chemical process at all and it used existing plasma in her body for natural healing. She was back on her feet in no time! So yes! Rest assured that PRP works like a charm and has been used and endorsed by doctors for many years now.
At Bella, we use it for beauty purposes rather than to fix injured hoofs, though! LOL. We call it Liquid Gold and if you are after the Golden Glow of PRP, you have come to the right place!