The Plasma Pen is revolutionizing the ways people can address hooded and drooping eyelids when they want an eye lift, saving on discomfort, downtime and expense compared to plastic surgery. I'm proud to announce that Bella Medspa was the first medspa serving Buckhead and Brookhaven to offer the Plasma Pen with treatments debuting in August, following the U.S. Food and Drug Administration's approval for its use in aesthetic procedures.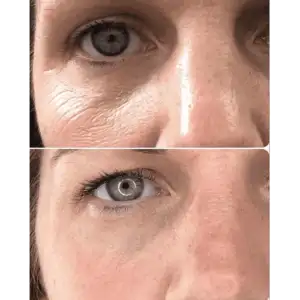 Plasma fibroblast treatments gently deliver instant lifting and repairing to the areas around the eyes, around the mouth and on the hands. In this procedure, electrostatic-energy interacts with the air and forces skin tissue to contract. This triggers natural healing and stimulates collagen production in both the epidermal and dermal layers for the long-term.
Key Differences
The key differences that are shifting people from a plastic surgery eye lift (blepharoplasty) to the Plasma Pen are the opportunity to avoid invasive surgery, far less downtime and a much more economical cost. After a Plasma Pen treatment, micro dots are present on the treated area. Clients typically experience just a week of downtime after a treatment on the face and about ten days after treating spots on the backs of hands.
An individual could have Plasma Pen treatments around their eyes, on recessed lines around the mouth and age spots removed from the hands for less than the cost of blepharoplasty alone! Then, you could work remotely for a day or two and return to most all activities within days.
Plasma Pen Produces Dramatic Results
At Bella, our Plasma Pen procedures provide a dramatic and natural improvement to the eye area – upper and lower eyelids, frown lines, crow's feet – as well as lines around the mouth, particularly common from smoking, spots and crepey skin texture.
For skin tightening, the Plasma Pen returns the skin's natural contour and smooths the texture. With this noninvasive procedure, clients walk out with immediate results that become more visible in the weeks following treatment and last for years.
The Plasma Pen's versatility is generating many advocates for its use to address skin concerns that range from sun damage to sagging skin that impacts vision. Because the fibroblast treatment works in the deep tissue layers, you will notice a smoother skin texture is revealed as collagen production is boosted! A repeat treatment may be necessary for even more dramatic results.
The new Plasma Pen fibroblast therapy is an extraordinary procedure that I'd love to discuss with you during your next visit or at a consultation.
Learn even more about the Power of the Plasma Pen here.