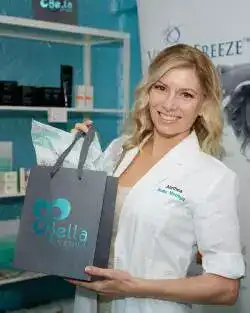 I think this might be the most exciting update I've shared in a while: Bella is expanding and opening a second location in Alpharetta! I'm absolutely ecstatic at how smoothly things are going. It's almost like it was written by the stars!
Just a couple of months ago, while getting ready to go to work, my son told me we should open a second Bella close to home. I was already toying with the idea of expanding, but never in a million years did I think it would happen so soon. The idea stuck in my head, and all of a sudden, the perfect location serendipitously became available and I just knew I had to go ahead and do it!
So yep – here we are! We've been working nonstop to get things ready ever since. I'm so excited to announce our Grand Opening in Alpharetta is set for Saturday, January 16th. 
Yay! But what does that mean for the Buckhead location? 
Ever since I announced the expansion, a lot of people have asked whether or not I'll still be treating clients in Buckhead and the answer is: OF COURSE!
I will never give up the Buckhead medspa. It was Bella's first location and it will always have a special place in my heart. Opening our second location is a testament to our clients' faith in our business. My vision to reach more people has become a reality thanks to that! I'm so thankful to our clients in Buckhead and I look forward to continuing working with you all.
As you may know already, I'm an Alpharetta resident. I live on a farm in Milton with my three kids and husband (and lots of horses!). Moreover, both my parents and my in-laws live a couple of miles from us and I just absolutely adore the Alpharetta community. I'm soooo looking forward to making it easier for my "mommy friends" in the area to get pampered, as well as making new connections and meeting new friends close to home! 
So even though I'm happy to be spending more time close to home, I'll also be in Buckhead several days a week to continue pampering clients there. The only thing that will change is that I'll now be treating clients in both locations.
Grand Opening Event
Come join us for our grand opening! Not only will you get a tour of our new cottage, but you'll also be able to visit our new treatment rooms, get to learn more about lasers, injectables, and skin treatment options, and arrange for a private consultation (all with a glass of champagne in hand, of course)!
Where? 1020 Powers Pl, Alpharetta, GA
When? Saturday, January 16, 2021, 3 to 6 PM⠀
She Is Safe
As you may already know, over the years, we have made it a mission to support organizations and charities that we feel close to. We donate part of our Buckhead proceeds on a monthly basis to different projects, and we'll be doing the same in Alpharetta.
A portion of the proceeds from select treatments and Bella products sales will go towards She Is Safe, which was founded 17 years ago by my parents with the mission to rescue and restore girls from abuse and human trafficking.
They work so hard not only to rescue girls and give them a second chance at life, but also to work with communities all over the world to prevent them from becoming victims of abuse and sex trafficking in the first place. If you want to learn more about the wonderful work my parents do, head over to their website.
What services will be offered at the Alpharetta location?
Bella has always been the go-to place for exclusive treatments in the Southeast, and we'll continue offering those services at our second location. These include (but aren't limited to):
I'm honestly so overwhelmed with joy to see how Bella's philosophy of Repair, Protect and Maintain has resonated with so many of you that we can now expand and make it available to even more friends who live closer to home in Milton!
I also want to thank my fantastic team who has been there every step of the way to ensure everything is ready for the grand opening. Moreover, thanks to our loyal Buckhead clients – not only is this expansion possible thanks to the trust you've had for Bella over the years, but also you've also given us advice and resources to make things smoother (we've had clients even help us out with decorating! Thank you SO SO much!)
Growing your business is a labor of love, passion, and hard work. I can't wait to meet you all next Saturday and I'm very much looking forward to WOWing everyone with results!